The Ultimate Guide to Optimize Images of Your Artwork: A Step-By-Step Tutorial
GET YOUR ARTWORK OPTIMIZED FOR THE DIGITAL WORLD
If you're a fine artist in today's digital world, great pictures of your artwork are crucial for success. Modern smartphones take wow-worthy, high-resolution photos, but they also produce an image with a large file size. Large images will slow your website down or be too bulky to easily send to someone else. Image optimization to the rescue!
In this comprehensive guide, we'll walk you through the process of optimizing your images; resizing and compressing photos so your artwork looks its best wherever its destination—across platforms and devices or for showing at art shows and to galleries and collectors. 
What is Image Optimization?
When we talk about optimizing pictures of your art, we're talking about reducing an image's file size without significantly compromising its visual quality. We can do this through physically resizing the photo and through compression with software that finds redundant information in your pictures and deletes these "less important" pixels from the file. Optimized images are easier to transfer and decrease website page load times, while still looking stunning for your audience.
Resize Before You Compress
The first, often overlooked, step to optimize images of your artwork is to decrease the physical size of your photo. The smaller your picture dimensions, the lighter and faster the file will be. Most computer editors have resizing tools, or you can easily resize any image of your artwork for free using websites or apps like Canva. Within the software, simply reduce the physical dimensions of your photo.
When resizing a photo of your art, aim to land in the "Goldilocks Zone" for a seamless viewing experience. Too big, and your file size will create slow loading and transfer times. Too small, and your image won't show up well on larger screens. A photo of your artwork should land between 600–1200 pixels. At this size, your art should still appear as a quality image on most digital screens and devices. If you're resizing a square image, we recommend 1080×1080 pixels for websites and 600×600 pixels for image transfer.
How to Compress Your Artwork Image
Your resized photo is on its way to becoming as fast as it is beautiful; now it's time to optimize images through compression! Many websites like imagecompressor.com will quickly compress your images for free! Simply upload your image and receive a compressed file. Online image compressors like this one are safe to use as your original image files stay untouched on your system. 
If you see a noticeable difference after compression and your image looks grainy or fuzzy, simply drag the compression slider up to decrease the amount of compression until the image appears as clear as your original. Aim for the lowest file size possible while still maintaining a clear and crisp image. It is typically possible to maintain a clear image with a file size between 100–200kb. If your photo looks too grainy at this size, at least decrease your image's file to less than 500kb.
Crisp and Clear Optimized Images
Once the image of your artwork is optimized through resizing and compression, you're ready for business! Transfer your artwork image to that eagerly-waiting art show or upload the images to your website. Your collectors will be treated to sharp and sophisticated images that don't bog their system down. Now you can get back to the studio!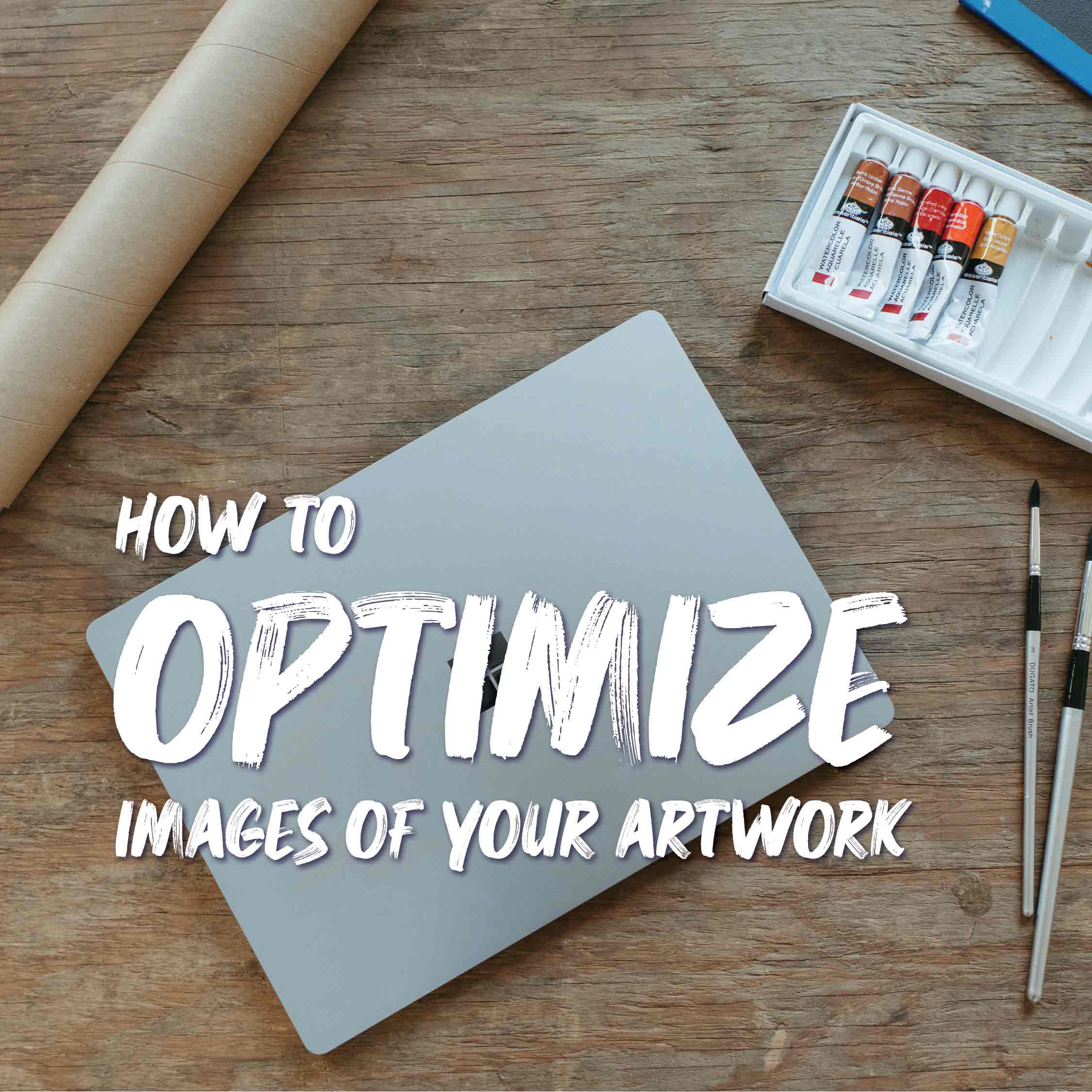 Want MORE ARTIST TIPS AND TRICKS?
Mastrius Events dive into the artist's life—everything from critiques and demos to business and marketing, even mindset!
With a Mastrius Events Membership, participate in every event, watch the past week's recording, and enjoy a members' chat group.
Want to GET THE MOST out of Mastrius Events at your own pace?
Watch 80+ past event recordings in the Mastrius Events Recording Library! 
Want something to OPTIMIZE IMAGES of your artwork for?
Apply to one of our Mastrius Global Juried Art Shows! These virtual art shows featuring Mastrius members from across the world are a great experience for any growing artist!