How Underpainting in Red Can Transform Your Art
The Vital Step of Underpainting
Underpainting—the technique pioneered by the Old Masters of applying a layer of paint to a blank canvas prior to more visible layers of paint—has been adopted by modern artists for many reasons. Underpainting can combat the fear of a white canvas, build tonal values into a painting, and act as a blueprint for the future painting. Whatever the reason, if you are an acrylic or oil artist, please don't skip underpainting! Though it may add time to your painting process, when done correctly, underpainting has a powerful effect on your finished work.
The Power of Underpainting to Affect Color
Underpainting is the secret to color depth in your work. It influences the color direction of your work, shifting the mood of your piece and allowing for more realistic colors and luminosity in your painting. 
Underpainting also unifies the color composition within a single painting. Even better, if you're presenting a body of work in an art gallery or art show, consider using the same color to underpaint each piece of your collection. You will create visual unity in your body of work, making a cohesive whole.
Underpaint in Red for Vibrancy
Since the color of your underpainting influences the color direction of your painting, the color you choose to underpaint makes a big difference. One of the most versatile colors to use as an underpainting is red. Red interacts with other colors—particularly greens, oranges, and purples—to create luminosity, make your visible colors pop, and build a depth not otherwise possible. Try different red tones for your underpainting, some popular colors include Quinacridone Crimson, Quinacridone Nickle Azo Gold, and magenta, which can make your paint colors appear to glow.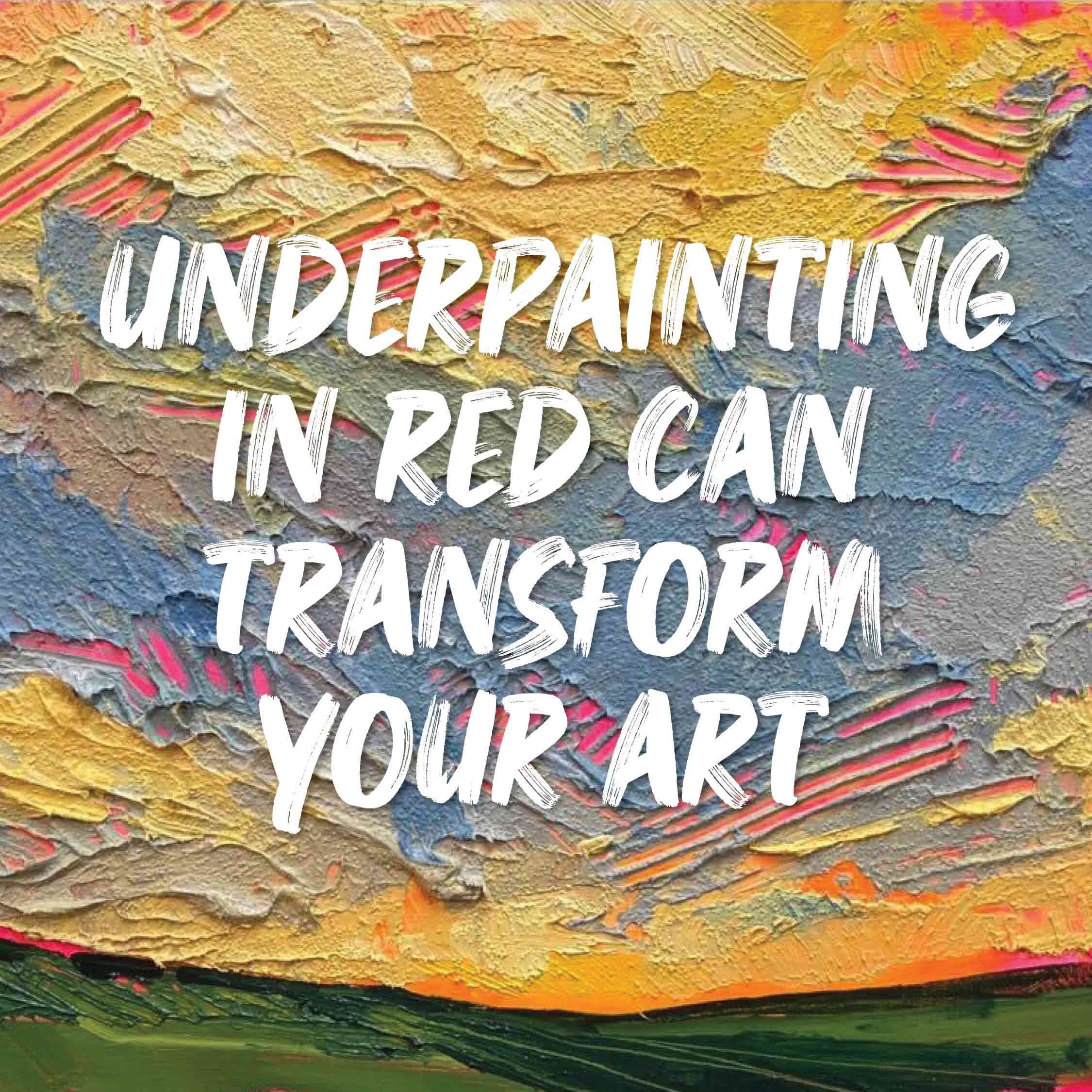 Want to Watch the Masters Underpaint in Red?
See Master Artists Doug Swinton take on Charlie Easton in ART WARS: UNDERPAINTING IN RED! Charlie and Doug will paint live from their own studios, using the same reference photo for inspiration and underpaint in red. They will talk about why artists underpaint and how to do it successfully, whip up a work of art in a 45-minute time limit, and answer YOUR QUESTIONS while painting!
Want to build your art collection with paintings that have red underpaint?
Come to the upcoming Mastrius Art Show: Underpainting in Red! Coming April 29–May 3, 2023. See the power of underpainting to bring cohesion to a body of work and unify the combination of diverse styles and subjects!