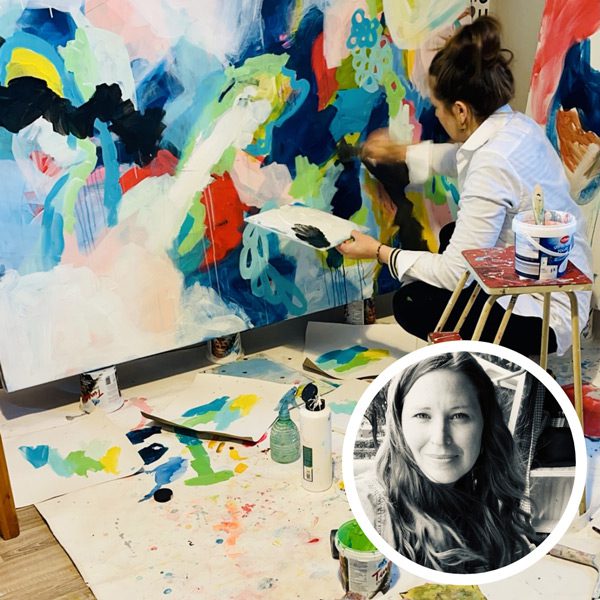 The Art of Financial Diversity
Discover the Secrets of Artistic Prosperity: Develop Multiple Income Streams for a Thriving Art Career.

Instructor: Shannon Amey
Audience: Fine Art Painters
For Stage(s): Emerging, Accomplished, Professional
Medium: Any Medium
Not sure what stage you are? Visit our How It Works page for details.
Starts on Saturday, January 6, 2024
Jan 6 | Jan 13 | Jan 20 | Jan 27
4 sessions, 2 hrs each
9:00am – 11:00am MT

Course Description
Course Description:
Are you a talented artist seeking to thrive in a world of ever-evolving opportunities? Unleash your full creative potential and discover how to transform your artistry into a diverse array of income streams. "Artistic Prosperity: Mastering Diverse Income Streams" is your passport to financial empowerment as an artist.
Course Highlights:
Unlock Your Potential: Embrace your unique skills and assets, and harness them for financial success. Whether you're a painter, sculptor, digital artist, or working in any other medium, this course is tailored to your needs.
Beyond Art Sales:
Say goodbye to reliance on traditional art sales. We'll explore imaginative and lucrative avenues that artists can explore, including teaching, writing, speaking, and more.
Digital Mastery:
Learn the secrets of creating a compelling online presence, selling your artwork through e-commerce, and leveraging social media for exposure.
Strategic Income Streams:
Develop a personalized plan to identify and monetize your creative talents, turning them into revenue-generating streams.
Real-Life Success Stories:
Gain inspiration from real artists who have diversified their income and achieved financial stability while staying true to their artistic passion.
Interactive Learning:
Engage in hands-on activities, group discussions, and networking opportunities. Connect with like-minded artists who share your aspirations.
Expert Guidance:
Benefit from the knowledge and experience of industry experts who understand the unique challenges and opportunities for artists in today's world.
Who Should Attend:
This course is designed for artists at any stage in their career who are eager to break free from financial limitations and explore the endless possibilities for artistic prosperity.
Invest in Your Artistic Future:
Don't limit your artistic journey to the canvas alone. Unlock a world of financial potential and creative fulfilment by enrolling in "Artistic Prosperity: Mastering Diverse Income Streams." Join us to embark on a transformative artistic adventure that could change your life forever.
Are you ready to elevate your art and your income? Enroll now, and let your creative talent take center stage in your financial success story!
RESULTS OF COURSE 
Comprehensive Understanding of Income Streams: By taking this course, artists will gain a deep and comprehensive understanding of the myriad income streams available to them within the art world, ensuring they don't leave any potential revenue untapped.
Practical Skill Development: Participants will actively develop practical skills and techniques, equipping them to navigate the complexities of diversified income streams. They'll leave with the tools to turn their creative talents into sustainable revenue sources.
Expanded Financial Opportunities: This course actively empowers artists to expand their financial opportunities within the art world. Whether it's through teaching, digital sales, or other income avenues, you'll have the knowledge to diversify and enhance your income.
Personalized Income Stream Plan: Our course focuses on practical application. By the end, each participant will create a personalized income stream plan tailoredto their unique skills and aspirations, paving the way for
a more sustainable and financially secure art career.
Achieving Financial Goals: With the knowledge and skills acquired in this course, artists will be well- prepared to achieve their financial goals. You'll leave with a clear roadmap for enhancing your financial sustainability, making your artistic dreams more achievable than ever.
Supply List
To embark on this transformative artistic journey, you won't find the typical list of art supplies. Instead, the essentials are something far more powerful – your enthusiasm, boundless creativity, an open mind ready to explore new horizons, and a willingness to
collaborate with fellow artists.
In this course, we're not just redefining income streams; we're challenging conventional methods and inspiring a paradigm shift in your artistic career. Your passion, your innovative ideas, your collaborative spirit – these are the supplies that will fuel your success.
Are you ready to break free from the ordinary and forge a path to extraordinary artistic prosperity? Join us with an open heart and an adventurous mindset, and let your creativity and collaboration be the tools that shape your financial future.
Instructor Bio
Shannon Amey is an accomplished artist whose creative journey has taken her from the hallowed halls of OCAD in Toronto, where she honed her skills as a professional artist, to the University of Calgary, where she earned a graduate degree in Creativity.
As a full-time professional artist and dedicated art educator, Shannon's passion for the arts extends beyond her studio practice. Her commitment to nurturing and inspiring the next generation of artists is a testament to her deep-rooted love for creative expression.
Currently, Shannon finds herself in the captivating landscapes of the Faroe Islands, embarking on a personal and artistic odyssey with her family. These rugged, remote landscapes provide fertile ground for her work as a mixed media abstract artist, where she continues to push the boundaries of her creative prowess.
Shannon's artwork is a testament to her unique perspective, seamlessly blending the traditional and contemporary in her distinctive abstract pieces. Her work captures the essence of the Faroe Islands' rugged beauty, reflecting both the tranquility and dynamism that surrounds her.
As Shannon Amey continues to evolve her artistic vision in these remote, inspiring surroundings, her work serves as a bridge between imagination and reality, inviting viewers to explore the limitless possibilities of the creative world.
How many registrations are required for a course to start?
A minimum of 6 registrations are required.  If 6 registrations are not received by the time the course is 24 hours from starting, the course will be cancelled and all registrants will receive complete refunds.
What is the maximum number of people in a course?
This varies for each course.  The maximum number of registrations is decided by the instructor.
Can I get a refund?
Up until 24 hours before a course's first session you can receive a complete refund. You can cancel your registration via the My Account portal, or by contacting Registrations@Mastrius.com.
After this time no refunds will be given (if you have extenuating circumstances you believe justify a refund, contact us at Registrations@Mastrius.com).
Can I register for a course already in progress?
No. Once a course has started, no new registrations are accepted.
Where will my course be held?
All courses meet online over Zoom. You will need a device equipped with a camera and a microphone to fully participate. 
If you have not used Zoom before, learn about how to use it here.
If you don't regularly use Zoom, we recommend you join your first session 10-15 minutes early in case your computer needs to install or update Zoom.
How do I join my course?
You will receive a welcome email from Registrations@Mastrius.com when you register.  This email includes the Zoom link to join your course session.  You will also receive 24 hour and 2 hour reminder emails before each session, and each of these emails includes the Zoom link.  You can also access the Zoom link to join your course in your MastriusChat group.
Are the sessions recorded?
Yes, every session is recorded and are typically available 24 hours after a session ends.  All session recordings will remain available for the duration of the course, and for one month following the last session.  The recordings are viewable within the MastriusChat platform, and cannot be downloaded.
What if I miss a session?
You'll be able to watch the session's recording.  If you have questions the recording doesn't address, you can ask them in the chat feed of your course's private MastriusChat group.
What is MastriusChat?
MastriusChat is an online discussion platform.  You and your fellow course registrants will be assigned to a private MastriusChat group where you can connect and support eachother via the chat "feed". Your group is also where you'll access the session recordings. Other resources in your MastriusChat group include a link to join your course sessions, and a library your instructor can use to share resources.
What is a Navigator?
A Navigator is an artist who joins your course to ensure both instructor and registrants have an enjoyable experience. They support (as required) with technology, timekeeping, moderating questions, and between-session discussions on MastriusChat. The Navigator has also joined the course as participant, and just like you, they're wanting to grow their skills and learn the material.
I'm not ready to register because I still have questions. Who do I contact?