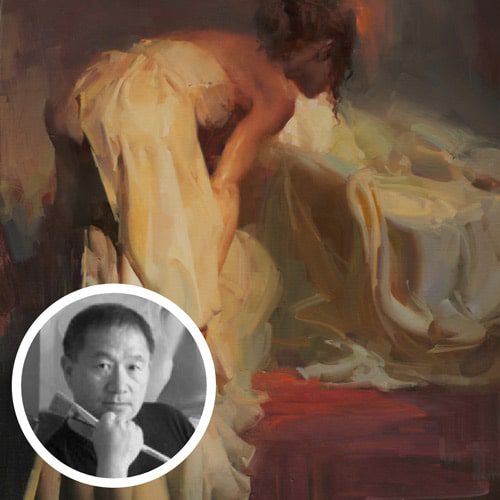 BRING LIFE TO CLOTHED FIGURE PAINTING
Understand the pivotal roles of composition, color dynamics, light, and form in portraying clothed figures realistically, all while receiving personalized guidance and direct feedback from Zhaoming Wu to refine your skills.

Instructor: Zhaoming Wu
Audience: Fine Art Painters
For Stage(s): Emerging, Accomplished, Professional
Medium: Oil
Not sure what stage you are? Visit our How It Works page for details.
Starts on Saturday, July 27, 2024
July 27 & 28, 2024
2 sessions, 8 hrs each, daily for 2 times (includes 1-hr lunch break)
10:00am – 6:00pm MT
Course Description
Prepare to gain a comprehensive grasp of traditional methods and painterly techniques as they're applied to style.
Zhaoming will lead you through the realm of composition, color dynamics, and understanding light's interplay with form over this enriching 2 day workshop. Grasp the nuances of values and edges, harnessing their power to evoke mood and atmosphere within yourartwork. You'll watch live demonstrations, gain personalized instruction, and receive constructive critiques to elevate your clothed figure painting skills.
Discover effective techniques to create clothed figures, blending classical techniques with your unique artistic style under the mentorship of this seasoned artist and mentor!
What You'll Learn:
Mastering Alla Prima Technique: Perfect the direct, wet-on-wet painting method for clothed figure artistry in oils.
Composition & Color Dynamics: Understand the critical role of composition and color harmony inportraying clothed figures realistically.
Light & Form Illumination: Gain insights into illuminating clothed subjects, bringing out their three- dimensional essence.
Value & Edge Expertise: Learn techniques to balance values and edges for conveying depth and emotion in clothed figure paintings.
Personalized Guidance: Receive direct feedback and invaluable insights from Zhaoming Wu to refine your approach and skills in painting clothed figures.
Supply List
Portable Easel Box, any type as long as it's easy to set up
Wet Painting Carrier Box
Palette, any type except paper palette
Brushes
Good quality Flat brushes for the small to medium sizes (#0,#1, #2, #4, #6, #8, #10 and #12)
Three good quality synthetic brushes for the larger sizes (one inch or one and half inch)
Two Fan Brushes (#2)
Angle shape watercolor brush used for oil, #5 #8 (optional)
Canvas
You will need 3 canvases, 18×14 or 16×12 for portrait paintings or clothed figure painting
Gamsol (odorless mineral spirits) or Odorless Turpenoid (turpentine substitute)
Linseed Oil
Paper Towels
Paint
My recommended palette:
Titanium White
Cad. Yellow
Cad. Orange
Cad. Red
Terra Rosa
Alizarin Crimson
Burnt Sienna
Van Dyck Brown or Raw Umber
Ultramarine Blue
Cobalt Blue
Cerulean blue
Instructor Bio
Born in Guangzhou, China, Zhaoming Wu grew up during the Cultural Revolution. He began to study Chinese brush painting at the age of 8. Following high school, he became a graphic artist at an advertising agency. He credits this experience in helping him to develop substantial painting skills as well as the art of story telling. Later, he graduated from Guangzhou Academy of Fine Art where he earned a BFA in painting and was as an assistant professor there for seven years. After moving to San Francisco, California, he received his MFA in painting from the Academy of Art University where he is currently an instructor. Active for many years as both an artist and a teacher, Zhaoming has works exhibited in museums and private collections around the world.
Although he is best known for his figurative painting, using live models with flowing drapes, he is inspired by and paints the landscape. The natural elements remind him of the curves of the body and folds of the cloth. Influenced by the 19th century French painters, he describes his work as "representational, but not traditional  classical." This technique can be seen through the combination of more modern elements and understanding of graphic design. Utilizing his knowledge of heightened colors and values, he makes powerful, conscious decisions about their application.
Recent national and international publications have highlighted his vibrant career and technique. He has been featured in major domestic art magazines such as Fine Art Today, Fine Art Connoisseur, American Art Collector, Southwest Art and Plein Air Magazine. International publications include Arte Y Libertad (Spain), Art of Watercolor (China) and Pratique des Arts, (French). He has published 11 books and was featured in 3 instructional DVDs.
Major awards and honors have been given to Zhaoming Wu. These organizations include the International Artist's Magazine, Oil Painters of America and the National Oil and Acrylic Painter's Society, among others. For 7 consecutive years, he was a juror of an international art contest at the European Museum of Modern Art in Barcelona, Spain
How many registrations are required for a course to start?
A minimum of 6 registrations are required.  If 6 registrations are not received by the time the course is 24 hours from starting, the course will be cancelled and all registrants will receive complete refunds.
What is the maximum number of people in a course?
This varies for each course.  The maximum number of registrations is decided by the instructor.
Can I get a refund?
Up until 24 hours before a course's first session you can receive a complete refund. You can cancel your registration via the My Account portal, or by contacting Registrations@Mastrius.com.
After this time no refunds will be given (if you have extenuating circumstances you believe justify a refund, contact us at Registrations@Mastrius.com).
Can I register for a course already in progress?
No. Once a course has started, no new registrations are accepted.
Where will my course be held?
All courses meet online over Zoom. You will need a device equipped with a camera and a microphone to fully participate. 
If you have not used Zoom before, learn about how to use it here.
If you don't regularly use Zoom, we recommend you join your first session 10-15 minutes early in case your computer needs to install or update Zoom.
How do I join my course?
You will receive a welcome email from Registrations@Mastrius.com when you register.  This email includes the Zoom link to join your course session.  You will also receive 24 hour and 2 hour reminder emails before each session, and each of these emails includes the Zoom link.  You can also access the Zoom link to join your course in your MastriusChat group.
Are the sessions recorded?
Yes, every session is recorded and are typically available 24 hours after a session ends.  All session recordings will remain available for the duration of the course, and for one month following the last session.  The recordings are viewable within the MastriusChat platform, and cannot be downloaded.
What if I miss a session?
You'll be able to watch the session's recording.  If you have questions the recording doesn't address, you can ask them in the chat feed of your course's private MastriusChat group.
What is MastriusChat?
MastriusChat is an online discussion platform.  You and your fellow course registrants will be assigned to a private MastriusChat group where you can connect and support eachother via the chat "feed". Your group is also where you'll access the session recordings. Other resources in your MastriusChat group include a link to join your course sessions, and a library your instructor can use to share resources.
What is a Navigator?
A Navigator is an artist who joins your course to ensure both instructor and registrants have an enjoyable experience. They support (as required) with technology, timekeeping, moderating questions, and between-session discussions on MastriusChat. The Navigator has also joined the course as participant, and just like you, they're wanting to grow their skills and learn the material.
I'm not ready to register because I still have questions. Who do I contact?