Sarah Sculley
MASTER ARTIST
Mastrius Artist Mentor
This artist is mentoring at Mastrius. Visit our How It Works page for membership details.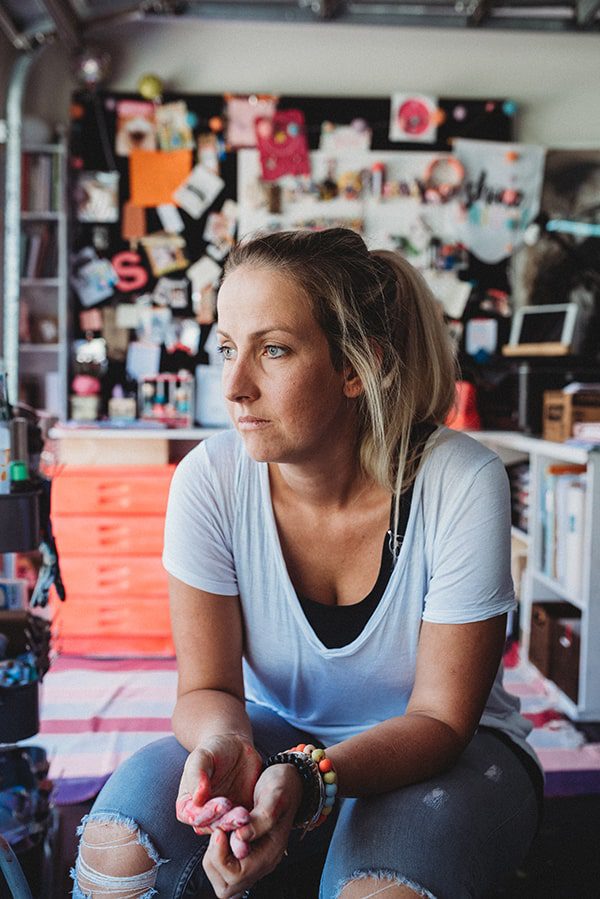 Mentoring Emerging Artists
Not sure if you're an emerging artist? Visit our How It Works page.
MEDIUMS: Acrylic | Mixed Media | Spray Paint & Stencils
SPECIALTY: ✔ Business
I spend hours fighting with myself in the art store. I know I should be using more 'mature' colours that mesh beautifully with this seasons Pantone Colour; but it's the brightest neon colours that leap off the shelf and into my shopping basket. They exude energy, positivity, happiness, comfort and they do not match this seasons Kmart homewares you just purchased. My work is for those who need to be lifted up. Who like to be slapped in the face with optimism and positivity every morning and the security of knowing they are not alone every night. My work exists to empower, inform, connect and better the people who view it, own it and walk past it everyday. The concepts are pulled from my personal connections with people and the dramas of adulting. With an innate need to make the world better, my work aims to inspire others to do better, be better and triumph.
My work begs to be the centre of attention with it's vibrant colours and heavy stencil forms. Loose mark making is an emotional reaction to the controlled and structured typographic detailed work. A reflection on life. I've slaped you on a canvas and covered you in uplifting paint and words. You will be ok.
Sarah's EXPERTISE
Listed below are this Mentor's specialty skills. Join this group if you want to grow in these areas.
Specialty: ✔ Business
Running Your Art Business – the Day to Day
"Mastrius has done wonders for my confidence. I have managed to step way outside of my comfort zone which has in turn given rise to so many more opportunities to further my art career."
~ Deb, Emerging Artist
JOIN NOW
select your mentorship group
If the group you're interested in has a waitlist, you have the option to join another group to get started. When your group opens we can transfer you over.
Emerging
Mentorship Membership
Next session: October 16, 2023
On the 3rd Monday of every month
This global group meets at:
10:00 AM - 12:00 PM AEDT

Tue


5:00 PM - 7:00 PM MDT

Mon


7:00 PM - 9:00 PM EDT

Mon


12:00 AM - 2:00 AM BST

Tue



...and your timezone too!
Contact us if you need help
Sarah Sculley is a Sunshine Coast-based urban artist who creates banksy-style stencils works with a kick of colour and energy. Inspired by the female form, typography and colour, Sarah mixes these elements to create her work on canvas, paper, surfboards, walls and skate decks. She is inspired by personal events, emotional pitfalls and the constant need to find the positive in every situation.
Sarah has now been in the creative art space for over 20 years. She studied a Bachelor of Design Studies majoring in Graphic Design and Visual Culture at the Queensland College of Art and received a scholarship from Griffith University to study abroad at the Edinburgh College of Art, Scotland. Since starting to exhibit her work in 2005, she has held international solo and group shows in China, USA, Nepal and Indonesia, and has been regularly featured in Australian art shows.