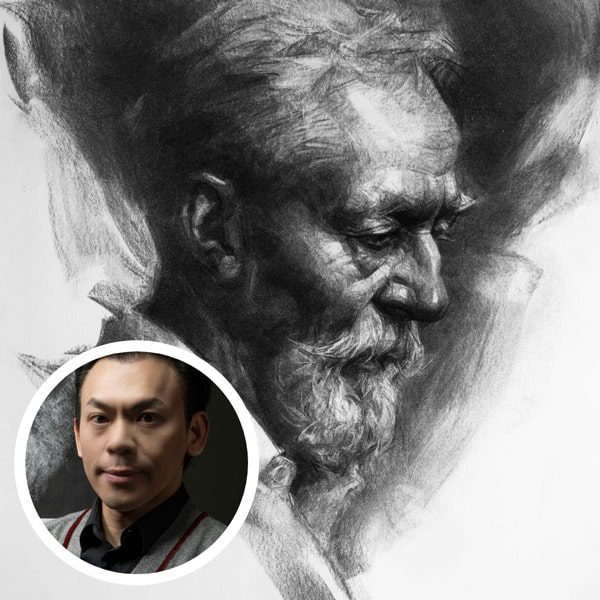 Create More Compelling Portraits
Drawing With Oliver Sin: A comprehensive workshop for artists at every stage of their journey.

Instructor: Oliver Sin
Audience: Fine Art Painters
For Stage(s): Beginner, Aspiring, Emerging, Accomplished, Professional
Medium: Charcoal
Not sure what stage you are? Visit our How It Works page for details.
Starts on Saturday, January 20, 2024
Jan 20 | Jan 21
2 sessions, 7 hrs each (1h lunch break)
9:00am – 5:00pm MT

Course Description
Learn to draw more vibrant, lifelike portraits with Oliver Sin's 2-day workshop on expressive portrait drawing!
Tailored for artists of all levels, this immersive experience guides you through the art of capturing emotion and depth in your portraits.
You'll delve into the core concepts of portrait drawing, from shapes and anatomy to value rendering, all while working with vine charcoal on drawing papers.
Oliver provides picture references and leads engaging step-by-step exercises and demonstrations, allowing you to experiment with different concepts.
This course will help you:
Master expressive painting techniques: Learn to infuse emotion and depth into your portraits, capturing the essence of your subject.
Understand fundamental principles: Gain a solid grasp of shapes, anatomy, and value rendering to create vivid portraits.
Receive personalized guidance: Benefit from Oliver's expert critique and feedback to refine your skills and elevate your portrait drawing to a professional level.
Draw along with demos: Utilize picture references provided by Oliver and draw along during the workshop, gaining practical experience.
Join Oliver to discover how you can become a stronger artist!
Supply List
MAIN COLORS
titanium white
cad. yellow medium
yellow ochre
cad. red light
alizarin crimson
ultramarine blue
cerulean blue (hue)
burnt umber
tera rosa
sap green
OPTIONAL COLORS
burnt sienna
naples yellow light
pthalo green
ivory black
Everyone has their own preferred palette. If you have colors similar to those I've listed, they will work to a certain degree. If you can, get the same colors I use as it will help with matching the pigments we mix. In general, if you have a darker and a lighter shade of yellow, red, and blue, a white, and a brown, you can recreate various colors.
I usually mix my own black, which is why pthalo green is optional, but you can also buy ivory black if you prefer. The other optional colors I listed assist with various skin tones. These are optional because paints can get expensive and if you're just starting out, a limited palette will at least get you going.
BRUSHES
I mainly use flat brushes… but this is also very individual. If you already have brushes then I would say use those that you're comfortable with, but if you want to use what I'm using, below is the bare minimum for what I suggest.
Also note that you should not use your acrylic brushes to paint with oils.
synthetic hair flat – size 2, 4, 6, 8
natural bristle flat – size 4, 6, 8, 10
foam brush – 2′′, 3′′ (these foam brushes are an affordable alternative to larger brushes. If you can get larger size brushes I would recommend it)
… and if you can just get more brushes than what I've listed I would also recommend that. The more brushes you have helps.
OTHER MATERIAL
Palette knives: just a couple for mixing paint
PALETTE
Gamsol Odorless Mineral Spirits or Turpenoid
Walnut oil or linseed oil
Many jars
Rags or paper towels
Murphy's Oil Soap (for cleaning the brushes after)
1 stretched canvas or wood panel 9″x12″ or 11″x14″ (first session)
1 stretched canvas or wood panel 12″x16″ or 14″x18″ (second and third session)
Instructor Bio
Oliver Sin is an alumnus of the Academy of Art University in San Francisco, CA, with a BFA in Illustration. After Oliver graduated in 1996, he started his art career as a computer game concept artist at LucasArts. Since 2001 until now, Oliver has returned to his school to be an art professor for the School of Fine Arts and 2D Animation.
Oliver has been so drawn to art even as a little boy, started drawing at the age of 3. Somehow, portraiture seems to be his favorite form of expression which he constantly practices, not only as an art professor but as a favorite hobby as well.
Oliver's first art book, "Drawing the Head for Artists" is published in 2019, hereafter, the Spanish, Dutch, and German versions become available in 2020. Oliver's first educational step-by-step DVD, "Portrait Drawing Simplified" was published by Streamline Publishing in April 2022.
Two of Oliver's portraits were commissioned and featured on the cover of Time Magazine as part of their "100 Women of the Year" project, March 2020 issue, see attachment. Oliver's vine charcoal portrait drawing of his dad won First Place in Drawing at the Portrait Society of America International Art Competition in 2021. For consistent achievements of artistic excellence in the art field of fine art portraiture, Oliver has earned "Signature Status" with the Portrait Society of America in 2022.
How many registrations are required for a course to start?
A minimum of 6 registrations are required.  If 6 registrations are not received by the time the course is 24 hours from starting, the course will be cancelled and all registrants will receive complete refunds.
What is the maximum number of people in a course?
This varies for each course.  The maximum number of registrations is decided by the instructor.
Can I get a refund?
Up until 24 hours before a course's first session you can receive a complete refund. You can cancel your registration via the My Account portal, or by contacting Registrations@Mastrius.com.
After this time no refunds will be given (if you have extenuating circumstances you believe justify a refund, contact us at Registrations@Mastrius.com).
Can I register for a course already in progress?
No. Once a course has started, no new registrations are accepted.
Where will my course be held?
All courses meet online over Zoom. You will need a device equipped with a camera and a microphone to fully participate. 
If you have not used Zoom before, learn about how to use it here.
If you don't regularly use Zoom, we recommend you join your first session 10-15 minutes early in case your computer needs to install or update Zoom.
How do I join my course?
You will receive a welcome email from Registrations@Mastrius.com when you register.  This email includes the Zoom link to join your course session.  You will also receive 24 hour and 2 hour reminder emails before each session, and each of these emails includes the Zoom link.  You can also access the Zoom link to join your course in your MastriusChat group.
Are the sessions recorded?
Yes, every session is recorded and are typically available 24 hours after a session ends.  All session recordings will remain available for the duration of the course, and for one month following the last session.  The recordings are viewable within the MastriusChat platform, and cannot be downloaded.
What if I miss a session?
You'll be able to watch the session's recording.  If you have questions the recording doesn't address, you can ask them in the chat feed of your course's private MastriusChat group.
What is MastriusChat?
MastriusChat is an online discussion platform.  You and your fellow course registrants will be assigned to a private MastriusChat group where you can connect and support eachother via the chat "feed". Your group is also where you'll access the session recordings. Other resources in your MastriusChat group include a link to join your course sessions, and a library your instructor can use to share resources.
What is a Navigator?
A Navigator is an artist who joins your course to ensure both instructor and registrants have an enjoyable experience. They support (as required) with technology, timekeeping, moderating questions, and between-session discussions on MastriusChat. The Navigator has also joined the course as participant, and just like you, they're wanting to grow their skills and learn the material.
I'm not ready to register because I still have questions. Who do I contact?