Ned Mueller
MASTER ARTIST
Unlock Your Artistic Potential
Mentorship is the fastest way to go from where you are today, to where you want to be!
Learn How Mentorship Works or join this mentors group below.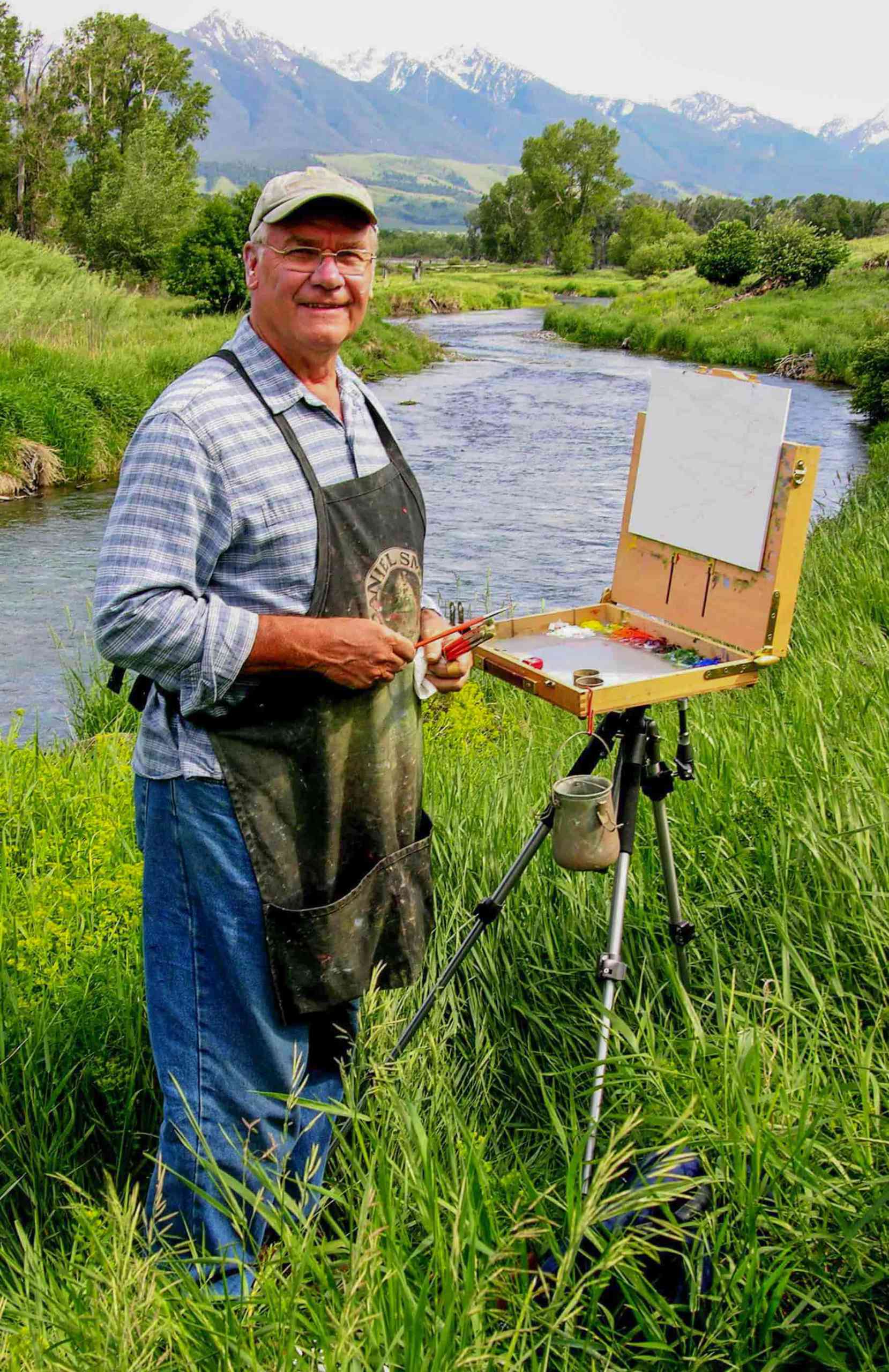 Mentoring Emerging & Accomplished Artists
Not sure if you're an aspiring, emerging or accomplished artist?
Visit our How It Works page.
MEDIUM: Oil Paint | Acrylic Paint | Pastel Art | Graphite Art
SPECIALTY: ✔ Plein Air ✔ Color ✔ Drawing ✔ Composition
Ned received a scholarship to study at the prestigious Art Center School of Design Los Angeles, and continuously worked at honing his craft, while making a living and raising his family. Because he could draw so well, Art Center he was asked to teach a drawing class of some of the best High School students in the Los Angeles area and substituted for faculty Instructors when they could not make a class. All the Instructors at Art Center School of Design were working professionals and students were held to a very high standard or were required to leave.
Working to develop his career, he was hired as an Illustrator, Courtroom Artist, Advertising Story Board Artist, Architectural Drawings and Renderings, Cartooning, Concept work for Disney, Book, and Magazine illustrations. He has exhibited in most of the Major Traditional/Impressionistic Shows in the country, has been in numerous Museum shows and has had three major exhibitions at the Frye Art Museum in Seattle is one of the few Artists invited to do a demonstration and workshop through at the Seattle Art Museum. His hard work, determination, and commitment to his craft, has resulted in a long and Award-winning Art Career producing a prolific and wide array of work in many different media, quickly establishing himself as a highly skilled Fine Artist and teacher.
Designated Master with the Oil Painters of America & the American Impressionist Society
Built concept work for Disney
Teaching for over 60 years
Formerly a cartoonist
Produced courtroom art for TV
READ MORE
Ned is one of the few Artists who is a "Designated Master" with both the American Impressionist Society and the Oil Painters of America.
He has won numerous awards and in 2020 – Ranked No.3 in the country of over 1500 award winning artists.
Art league – One of his biggest achievement Ned is most proud of, is being one of the Founders and President of the Puget Sound Art League. Modeled after the Pallet and Chisel club in Chicago. Its purpose and goal were to have a place where artists could go every day to improve their skills and confidence. Open seven days a week, at its peak, access for over 160 members, was non-profit, and had two studios where members could go, practicing Life Drawing, Portraits, Still Lifes and Sculpting, with access to Professional Drawing, Painting and Sculpture Instructors.
Having received a scholarship at the Art Center School of Design for his art education 60 years ago, Ned realizes how important it is to give back, and to make art accessible to Artists today, and following generations. This generosity is one of the reasons why Ned is still a sought-after teacher, giving in-person workshops all over the USA and World. This year with the Event of Co-vid, he was approached to give numerous online workshops which are hugely successful. He loves to teach, and his dedication, knowledge, and enthusiasm transfers over to his students.
Ned's EXPERTISE
Listed below are this Mentor's specialty skills. Join this group if you want to grow in these areas.
Specialty: ✔ Color ✔ Composition ✔ Drawing ✔ Plein Air
Studio Setup for Art Production
JOIN NOW
select your mentorship group
If the group you're interested in has a waitlist, you have the option to join another group to get started. When your group opens we can transfer you over.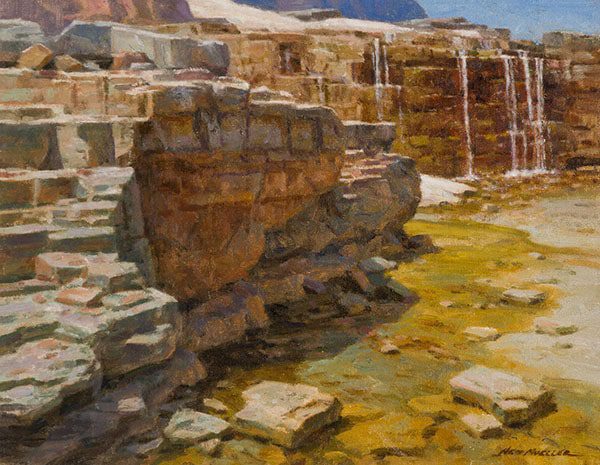 Ned is a very accomplished and highly respected artist, having been drawing and painting for over 65 years. He has been designated as a "Master Artist" with both the Oil Painters of America and the American Impressionist Society.
He is a graduate of the prestigious Art Center School of Design in Los Angeles where as still a student he also taught drawing classes. He has participated in many of the major invitational shows in the country, including the "Artist's of America Show", "Great American Artist's Show", "National Academy of Western Art", "Oil Painters of America", "Laguna Plein Air Show", "Pastel Society of America", "The Autry Western Masters Show",  "The Northwest Rendezvous Show" and the annual "Plein Air Painters of America Exhibition".
Ned has had three exhibitions at the Frye Art Museum in Seattle and has shown in some of the Finest Galleries in the country, has won numerous awards and is included in many private fine art collections. He is a Signature member of the Oil Painters of America, American Impressionist Society, Plein Air Painters of America. California Art Club, Northwest Pastel Society, Puget Sound Group of Northwest Artists, Northwest Rendezvous Group, and the American Society of Marine Artists.
Ned worked as a concept Artist for Walt Disney Imagineering where he also taught workshops for the Disney Artists. He continues to challenge himself to grow artistically. Ned is asked to jury Regional and National Art Shows and he loves to teach and share his many years of knowledge and experience by teaching classes and workshops, regionally, nationally and internationally.
On Drawing
What Every Painter Needs to Know About Drawing
There is no doubt that an artist needs to have good or great drawing skills. Drawing skills increase one's ability to see and sharpen our judgment and perception of what is a good design for each particular painting we are working on. I was trained as an Illustrator and it was necessary to be able to draw the figure well as most of our assignments would include figures and if you could draw the figure well...one could usually draw everything else quite well! Likewise one does not have to draw the figure to draw well..but certainly if you are going to draw the figure one should. Drawing trees, couches, buildings, fire hydrants, etc...relating proportions and perspective also sharpens one's eye and judgment and after around 10 years of that..a landscape or still life Artist could go back and do a pretty good figure! The love of the subject is a big component in all of this!
I loved to draw and started when I was four years old..very fortunate to get encouragement from my parents, teachers, and friends. I was the guy that they called on to do the Turkey and Christmas Art in Grade school, guide books, and was the Cartoonist for the High School Newspaper. The drawing skills, my attitude, and being from a poor family got me a scholarship and I was teaching weekend drawing sessions for talented High School students in the Los Angeles area...even filled in for Drawing Instructors when they were sick...over my head..but it was still nice! As a wise Instructor at Art Center told us...you learn how to draw well...you will always be able to find work..and he was right...I was a Courtroom Artist, did Storyboards, Architectural Drawings, complex Nuclear components, Advertising, and Editorial Illustrations.  It's no mystery why many of the more successful Fine Artists were once Illustrators! Drawing skills and Discipline translates well into creating a work of Art! 
This workshop will focus on a common-sense approach to learning how to draw...the figure - both nude and costumed,  the portrait, and all other things. Your Drawing skills will improve your judgment and the quality of your work. I like to keep my classes on the light-hearted side as I have discovered that students learn more with that kind of atmosphere. I hope that you can join us!