Milisa Galazzi
MASTER ARTIST
Unlock Your Artistic Potential
Mentorship is the fastest way to go from where you are today, to where you want to be!
Learn How Mentorship Works or join this mentors group below.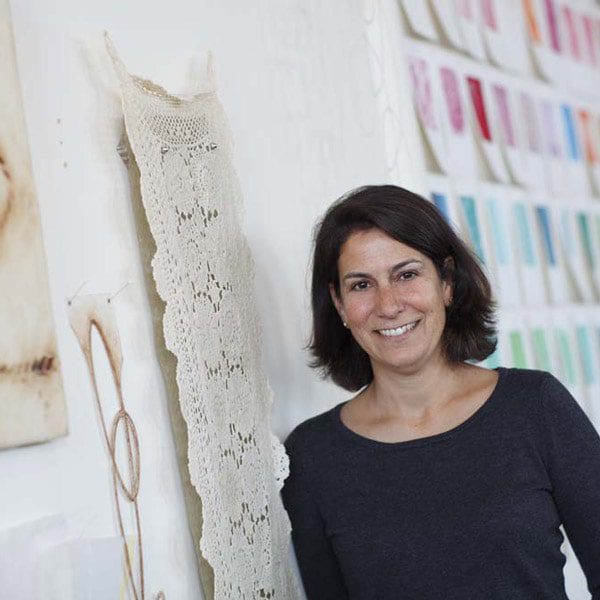 Mentoring Emerging & Accomplished Artists
Not sure if you're an emerging or accomplished artist? Visit our How It Works page.
MEDIUM: Encaustic Art | Graphite Art | Mixed Media Art | Sculptor
SPECIALTY: ✔ Generalist
I am intrigued with the ways in which we interrelate – especially when these relationships are punctuated by physical distance or separation by time. In this ongoing series of shadow drawings called String Theory, I visually nod to the complexities of interconnectedness and allude to the delicate yet strong relationships we form with one another over space and time. Much like the theory in subatomic particle physics in which tiny, vibrating, string-like objects float in space, my work visually vibrates with the use of line and shadow. In the world of physics, string theory exist in up to nine dimensions of space – plus the dimension of time. I layer multiple pieces of paper which visually reference this space-time continuum.
My physical manipulation of light and space in these works acts simultaneously as object, image, and silhouette. When illuminated by numerous light sources and hung off the wall, these hand sewn cut paper sculptures produce a visible dance of light. Working reductively to create this dimensional lace made with paper, thread, and wax, I literally and figuratively demonstrate – that which is removed is as important as that which remains.
Milisa's EXPERTISE
Listed below are this Mentor's specialty skills. Join this group if you want to grow in these areas.
Specialty: ✔ Generalist
Studio Setup for Art Production
Teaching How to Self Critique
JOIN NOW
select your mentorship group
If the group you're interested in has a waitlist, you have the option to join another group to get started. When your group opens we can transfer you over.
Accomplished
Mentorship Membership
$ USD
129
/

Monthly Membership
Next Session TBD

Join Waitlist to be the first to find out!
PLEASE NOTE: The Master Artist will pre-screen all Accomplished-stage registrants, and acceptance is not guaranteed. The Master Artist will ensure they are a good fit for you, if not, we will help you find the best fit, or refund your money.
ARTIST BIO
Artist, Milisa Galazzi, is best known for her three dimensional hand sewn shadow drawings, her printed works on paper, and her richly layered abstract drawing and paintings all of which explore the very nature of being human.
Her work is held in private international collections as well as public collections in the United States such as Women and Infants Hospital and the Women's Medicine Collaborative in Rhode Island.
She is a part-time professor at Clark University and exhibits nationally in solo and group shows in both galleries and museums. Her work is represented by the gallery, Miller White Fine Arts. Galazzi presents talks at national and international conferences such as the International Encaustic Conference and the National Art Education Association Conference.
Her artwork has been featured and reviewed in Surface Design, FiberArts and ArtScope magazines as well as in books such as, "Contemporary Cape Cod Artist: On Abstraction," and "Paper + Wax, Techniques in Handmade Paper and Encaustic" as wells as, "Encaustic: Art in the Twenty First Century." 
Galazzi was 'boat schooled' as a child while she and her family traveled and lived aboard their thirty-one foot trimaran sail boat hand built by her father. She received an MA with Honors from the Rhode Island School of Design where she exhaustively researched the educational effectiveness of community-based art education settings and her findings are published by Harvard University Graduate School of Education, Project Zero Press, 1999. Galazzi holds a BA from Brown University where she studied Studio Art with minors in Women's Studies and Cultural Anthropology and spent a semester studying at Studio Art College International (SACI) in Florence, Italy. She attended and graduated from Phillips Academy, Andover.
Additionally, she is the Founder of full palette LEARN. TEACH. LEAD. an organization whose mission is to Cultivate Creativity & Mindfulness for a Better World. Galazzi works full time in her studio near Providence, Rhode Island.