Unlock Your Artistic Potential
Mentorship is the fastest way to go from where you are today, to where you want to be!
Learn How Mentorship Works or join this mentors group below.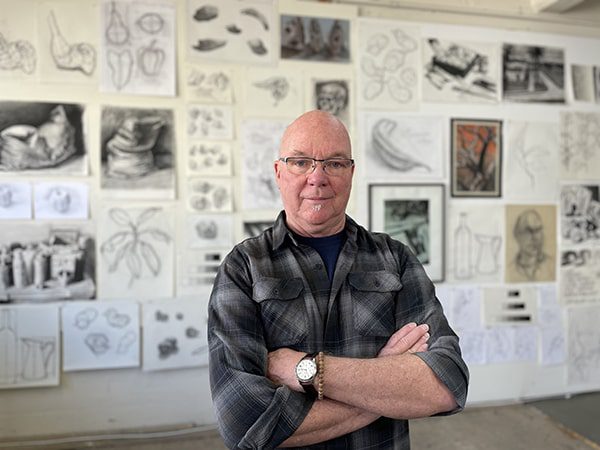 Mentoring Emerging Artists
Not sure if you're an emerging artist? Visit our How It Works page.
MEDIUMS: Oil | Acrylics | Mixed Media | Collage
SPECIALTY: ✔ Composition ✔ Color ✔ Artistic Process & Mindset
As a painter I've always enjoyed looking at the world in all its richness and complexity…then giving expression to those glimpses. However in recent years I have turned to photography as well – to exercise and strengthen another muscle for seeing.
To capture a specific moment in time that no one else sees, or will ever see, is rewarding beyond words. Whenever I travel with the camera, I feel alert, awake, and aware of all that is before me.
My painting process consists of many layers…time and material.
When I'm in the studio nothing else matters.
Time is irrelevant. No plans for the future, no past regrets.
I'll put on some great tunes
turn it up loud
and break out the color,
the tubes, brushes and rags.
Then enter a new piece with ferocity and abandon.
After awhile….I'll sit back
and just look.
Turn the piece upside down,
then dive in again.
I enjoy moving from knowing
to not knowing.
From reckless abandon
to careful consideration.
It is never boring or tedious
for I feel as though I am always betting
the house on the final outcome.
My favorite moment is when the conversation is over.
And that can take days, weeks, even months.
But to know there is nothing more to be done,
that everything I could possibly say
has been said, and at last I can step away
and think to myself,
it works.
Mark's EXPERTISE
Listed below are this Mentor's specialty skills. Join this group if you want to grow in these areas.
Specialty: ✔ Composition ✔ Color ✔ Artistic Process & mindset
Teaching How to Self Critique
Studio setup for art production
Supplies and tools – what to use, where to save, and
where to spend
"Mastrius has done wonders for my confidence. I have managed to step way outside of my comfort zone which has in turn given rise to so many more opportunities to further my art career."
~ Deb, Emerging Artist
JOIN NOW
select your mentorship group
If the group you're interested in has a waitlist, you have the option to join another group to get started. When your group opens we can transfer you over.
Emerging
Mentorship Membership
Next session: October 14, 2023
On the 2nd Saturday of every month
This global group meets at:
10:00 AM - 12:00 PM MDT

Sat


12:00 PM - 2:00 PM EDT

Sat


5:00 PM - 7:00 PM BST

Sat


3:00 AM - 5:00 AM AEDT

Sun



...and your timezone too!
Contact us if you need help
Mark Eanes is a painter, printmaker, photographer, curator, and educator who currently lives and works in Richmond, Virginia. Prior to living in Virginia, Mark lived in the Bay Area of California since 1970. He holds a Master's Degree in Fine Arts from Mills College in Oakland, California.
Eanes is Professor Emeritus from the California College of the Arts in San Francisco, where he taught drawing and painting courses for over thirty three years. Mark also taught at other art institutes in California including San Francisco State University, the Academy of Art University, Dominican College in San Rafael, College of San Mateo, and other community colleges.
Mr. Eanes taught figure drawing at the California State Summer School for the Arts ( a pre-college arts program at CalArts in Los Angeles) for twelve years, and was the Chair of the Visual Arts Department for three years. Mark has also conducted numerous private drawing and painting workshops throughout California and Italy, and has recently created online courses (Color, Design and Drawing) through the Mark Eanes Academy website.
Eanes has exhibited his artwork throughout California as well as nationally and internationally. His past solo and selected exhibitions include the Triton Museum of Art in Santa Clara, CA., the Parsons School of Design in Paris, the Applied Arts Museum in Belgrade, Serbia, the Cumberland Gallery in Nashville, Tennessee, the Documenta Galeria de Arte in San Paulo, Brazil, Sanchez Art Center in Pacifica, CA, Pence Gallery in Davis, CA, Hanford Center for the Arts, Sebastopol Center for the Arts, and many more venues.
Education:
Master's Degree at Mills College in Oakland, California
Bachelor's Degree of Fine Arts at the University of California at Santa Barbara,