Manon Sander
MASTER ARTIST
Unlock Your Artistic Potential
Mentorship is the fastest way to go from where you are today, to where you want to be!
Learn How Mentorship Works or join this mentors group below.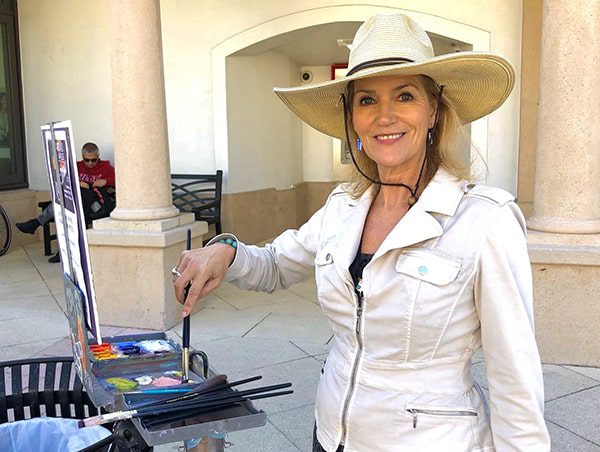 Mentoring Emerging Artists
Not sure if you're an emerging artist? Visit our How It Works page.
MEDIUM: Oil Paint | Acrylic Paint | Gouache Art
SPECIALTY: ✔ Plein Air 
No matter where I go, I find beauty in the light and its shifting, shimmering spectrum of colors. A strong believer in finding joy in the little things in life, I seek to capture and share the moments that give me the most happiness, that evoke the rawest of uplifting emotions human nature has to offer. Manifesting these twinkles of delight in a contemporary impressionistic painting style is my way to bring attention to the beauty found everywhere in our immediate surroundings, seen by those who slow down to look and notice.
I find inspiration for my next painting not necessarily in an object considered beautiful in the conventional sense: My desire to paint is mostly ignited by watching the effects of light. Illuminating something in all its brilliance through luminous colors and interesting designs, light has the power to elevate an object from the mundane to the exquisite. How light influences color, the mood, and the energy of a scene has been a source of endless fascination for me.
Expressing my joie de vivre through loose brushstrokes in combination with a well thought-through design and vibrant color choices translate into a painting that resonates not only with me as artist but also with the viewers, offering them a view of things that might otherwise have gone unnoticed and connecting them to feelings possibly forgotten.
Manon's EXPERTISE
Listed below are this Mentor's specialty skills. Join this group if you want to grow in these areas.
Specialty: ✔ Plein Air
Studio Setup for Art Production
Plein Air – focus on breaking down color
Supplies and Tools – what to use, where to save, and where to spend
Teaching How to Self Critique
Running your art business the day-to-day
Workshops – planning and pricing
JOIN NOW
select your mentorship group
If the group you're interested in has a waitlist, you have the option to join another group to get started. When your group opens we can transfer you over.
Emerging
Mentorship Membership
$ USD
87
/

Monthly Membership
Next session: October 12, 2023
On the 2nd Thursday of every month
This global group meets at:
3:00 PM - 5:00 PM MDT

Thu


5:00 PM - 7:00 PM EDT

Thu


10:00 PM - 12:00 AM BST

Thu


8:00 AM - 10:00 AM AEDT

Fri



...and your timezone too!
Contact us if you need help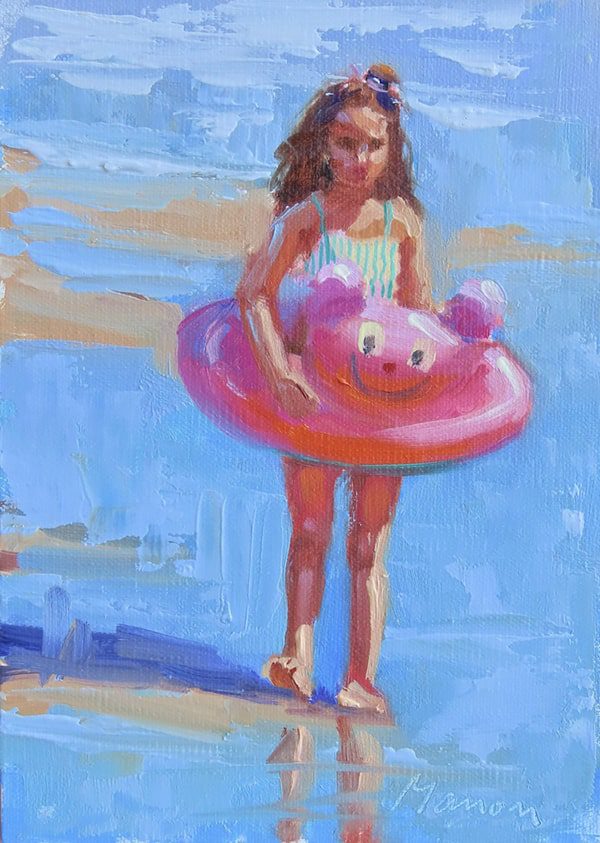 Manon Sander is a Florida-based oil painter who has taken it upon herself to savor all the flavors of life. Starting a new painting is like hearing the soft, welcoming jingle of the ice cream truck on a sweltering deep-summer day. The air is heavy with the anticipation of a sweet reward, and as the color melts from Manon's brush onto that hungry canvas, she tastes the simple, joyous flavor of childhood, when life was lived not just to the fullest, but bursting at the seams.
Like a kid waiting for the ice cream truck to come jostling up the road, Manon never stands still for long on that hot, sun-soaked street, instead dancing from one painting to the next.
Like her love for ice cream, her love for art started at a young age in her old stomping grounds of Bavaria and Berlin, Germany, and she has spent her life thus far travelling far and wide, letting the winds of chance carry her to live in Illinois, where she painted murals professionally, to California, where under the tutelage of some of the nation's premier artists she found her contemporary impressionist style, and on to Florida, where she truly dove headfirst into her deep love for plein air painting. On top of that triple scoop of living locations, she's had a generous helping of creatively-inspiring rainbow sprinkle travels that range from the wild Alaskan tundra and the scarlet vortex-soaked rocks of Sedona to the crumbling haunts of emerald Ireland and the sea-smattered cliffs of the Amalfi coast. But with local treasures like Naples, St. Augustine, Palm Beach, and Apalachicola so close at hand, Manon is more than happy to call Florida her home.
No matter where she goes, Manon finds beauty in the light and the shifting, shimmering spectrum of colors it holds between its glowing fingers. However, Manon does not simply paint because the colors she sees are beautiful, but rather because the colors she feels are. A strong believer in finding joy in the little things in life, she seeks to capture and share the moments that give her the most happiness, that evoke the rawest of uplifting emotions human nature has to offer. Manifesting these twinkles of delight through vivid oils has brought Manon to numerous awards, national juried exhibitions, galleries, invitational and juried festivals, and inclusion in publications such as Southwest Art and Plein Air Magazine. She was awarded Signature Status in the National Oil & Acrylic Painters' Society as well as the American Society of Marine Artists. Manon teaches both weekly plein air painting classes, as well as national and international painting workshops. Manon won 1st place in the St. George Island Paint Out and 3rd place in the Sedona Plein Air Festival in 2021. Manon is a regular on the faculty of one of the premier plein air conventions, Plein Air South, and gets regularly invited to prestigious plein air events like the Winter Park Paint Out, The Lighthouse ArtCenter Plein Air Festival, the Forgotten Coast En Plein Air Paint Out  amongst many others.
Manon sees painting as being as natural and necessary as breathing, and as crucial, of course, as trying as many flavors of ice cream as possible in one very long and incredible summer.