Jeremiah Palecek
MASTER ARTIST
Unlock Your Artistic Potential
Mentorship is the fastest way to go from where you are today, to where you want to be!
Learn How Mentorship Works or join this mentors group below.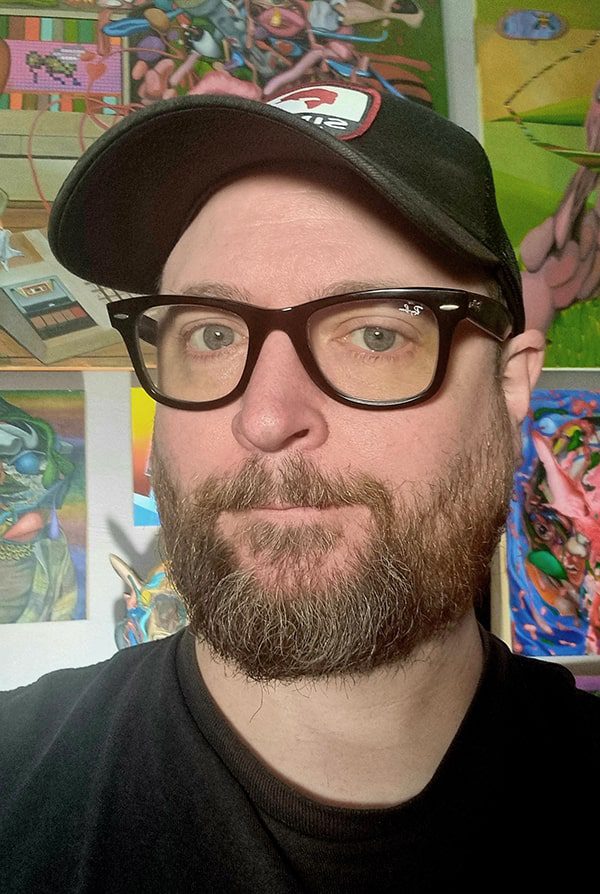 Mentoring Emerging Artists
Not sure if you're an emerging artist? Visit our How It Works page.
MEDIUMS: Acrylic | Alcohol Ink | Assemblage Art | Charcoal | Colored Pencil | Conte | Digital | Drawing | Egg Tempura | Encaustic | Gouache | Graphite | Ink | Mixed Media | Oil | Pastel | Printmaking | Quilting | Watercolor | Airbrush
SPECIALTY: ✔ Generalist

I create figurative paintings of cybernetic entities using robotic arms, plotters, and other machines. By juxtaposing these mechanical marks with my own hand-made ones, I explore the concept of humans as interconnected nodes in a vast network, akin to leaves on a tree.
My artistic approach embraces evolving forms that can metamorphose over time. Through various painting machines, ranging from precise plotters to lo-fi setups like a brush attached to an electric knife, I engage in dialogues with computer-generated scribbles based on generative inputs and prompts.
My subjects embody fluid boundaries, symbolizing the blend between artificial and natural, digital and tangible. This intersection of body, mind, and technology occurs where pixels meet flesh and bone. Rooted in the belief that painting is inherently human, I respond to the digital era in which I'm immersed, and paint it.
Jeremiah's EXPERTISE
Listed below are this Mentor's specialty skills. Join this group if you want to grow in these areas.
Specialty: ✔ Generalist
Teaching How To Self Critique
Studio Setup for Art Production
Supplies and Tools – what to use, where to save, where to spend
Storytelling via video for social media
Running Your Art Business – the Day to Day
Project Management for Collaborators
"Mastrius has done wonders for my confidence. I have managed to step way outside of my comfort zone which has in turn given rise to so many more opportunities to further my art career."
~ Deb, Emerging Artist
JOIN NOW
select your mentorship group
If the group you're interested in has a waitlist, you have the option to join another group to get started. When your group opens we can transfer you over.
Emerging
Mentorship Membership
Next session: October 15, 2023
On the 3rd Sunday of every month
This global group meets at:
12:00 PM - 2:00 PM MDT

Sun


2:00 PM - 4:00 PM EDT

Sun


7:00 PM - 9:00 PM BST

Sun


5:00 AM - 7:00 AM AEDT

Mon



...and your timezone too!
Contact us if you need help
Jeremiah Palecek is an artist and educator. He attended the The School of the Art Institute of Chicago, The Glasgow School of Art, Lyme Academy of Fine Arts, and University of Colorado Boulder. He is currently represented by Fred Giampietro Gallery in New Haven Connecticut. Jeremiah has shown internationally at museums including at Pompidou Metz, Musée de l'Élysée, and Schirn Kunsthalle. His work is included in various private collections throughout the world including Chad Hurley (Founder Youtube.com), and Valve Corporation.
He spends his time between Boulder, Colorado and Prague, Czech Republic, two disparate landscapes he both calls home.