Holly McWilliams
MASTER ARTIST
Unlock Your Artistic Potential
Mentorship is the fastest way to go from where you are today, to where you want to be!
Learn How Mentorship Works or join this mentors group below.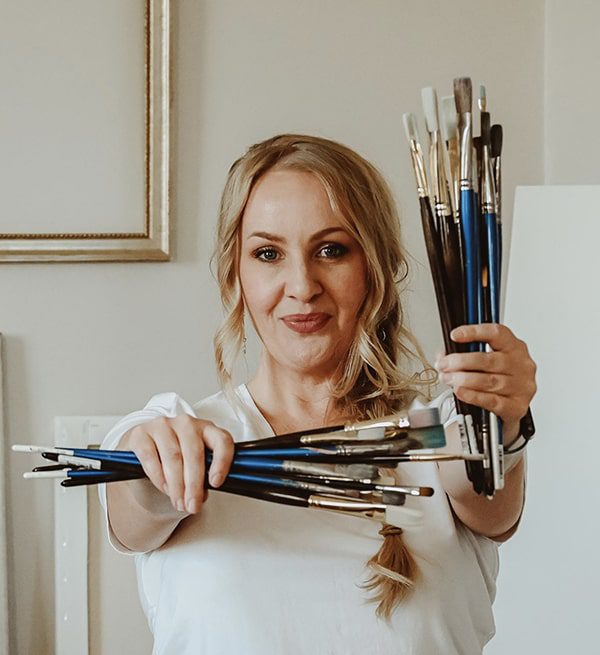 Mentoring Emerging Artists
Not sure if you're an emerging artist? Visit our How It Works page.
MEDIUMS: Oil | Acrylic | Watercolor | Mixed Media
SPECIALTY: ✔ Generalist
My artistic and creative process is to paint from references that are either, taken in moments of inspiration- where a perfect composition appears before you, or from a photo shoot- where the environment is somewhat planned or controlled.
These references are for details in shapes or the environment that make pleasing compositions, but not usually for color, as I mostly paint from black and white photos. Although sometimes I do have color references, more often then not, the black and white photo allows me to apply the color palette that I am inspired by at the time.
No matter what is inspiring me at the time, my artistic drive is always with me. Allowing me to stay present, be creative and make art. This is the life I live.
Holly's EXPERTISE
Listed below are this Mentor's specialty skills. Join this group if you want to grow in these areas.
Specialty: ✔ Generalist
Teaching How to Self Critique
Studio setup for art production
Supplies and tools – what to use, where to save, and
where to spend
Running Your Art Business the Day to Day
"Mastrius has done wonders for my confidence. I have managed to step way outside of my comfort zone which has in turn given rise to so many more opportunities to further my art career."
~ Deb, Emerging Artist
JOIN NOW
select your mentorship group
If the group you're interested in has a waitlist, you have the option to join another group to get started. When your group opens we can transfer you over.
Emerging
Mentorship Membership
Next session: October 16, 2023
On the 3rd Monday of every month
This global group meets at:
6:00 PM - 8:00 PM MDT

Mon


8:00 PM - 10:00 PM EDT

Mon


1:00 AM - 3:00 AM BST

Tue


11:00 AM - 1:00 PM AEDT

Tue



...and your timezone too!
Contact us if you need help
Holly McWillams is a multifaceted, creative artist that thrives on the idea of expression in her art – in whatever form that takes.
For as long as Holly can remember, she has been a creative, drawn to expressing herself visually. She has always seen her environment through a very visual lens, perceiving vignettes and cameos of perfect compositions all around her – just waiting to be captured on canvas.
She is primarily a painter and has produced collections in watercolor, acrylic, oil and mixed media. Simply put, Holly is an artist, with no limitations of mediums and is interested in a variety of subjects.
She is attracted to dramatic lighting and moody atmospheres, bold brushwork and vivid colours. She weaves together these things with subjects that she is interested in to create beauty, in a thought provoking way, engaging the senses.
She has vast bodies of work with a variety of subjects that range from figures, to urban and rural landscapes, Ravens and her magical collection of the Dreamscape Series.
Even though these are uniquely different, they provide a visual escape for her viewer where they can be swept up and transported, however briefly, to another time and place. She is interested in not only capturing a moment on canvas, but what it feels like to be in that moment, giving a definite immediacy and tangibility to her work.
"I want to close in on that moment where nothing else matters but being present – that 'just breathe' moment… appreciating the beauty around me. That's why I love to paint, I'm really trying to capture the physical essence of what it is to be alive and feeling that energy… that is what really inspires me, in life and in art."
~Holly McWilliams
Her formal art training was at ACAD in the mid 90's where she majored in sculpture. Then, she found painting and fell in love. She has been head over heels ever since, and created a career in the arts.
From the year 2000, Holly has been a professional artist, and an art educator. She is a gifted communicator and wanted to share her passion of the arts. She officially started her company, Indigo Arts, in 2005 with the goal to educate, inspire and make ART.
To this date she has successfully taught, mentored and coached thousands of people ranging from beginner to professional artists and created vast bodies of her own work.
Holly lives in Calgary, Alberta and has work in a number of collections, both corporate and private, in Canada, USA and Europe.