Desmond O'Hagan
MASTER ARTIST
Unlock Your Artistic Potential
Mentorship is the fastest way to go from where you are today, to where you want to be!
Learn How Mentorship Works or join this mentors group below.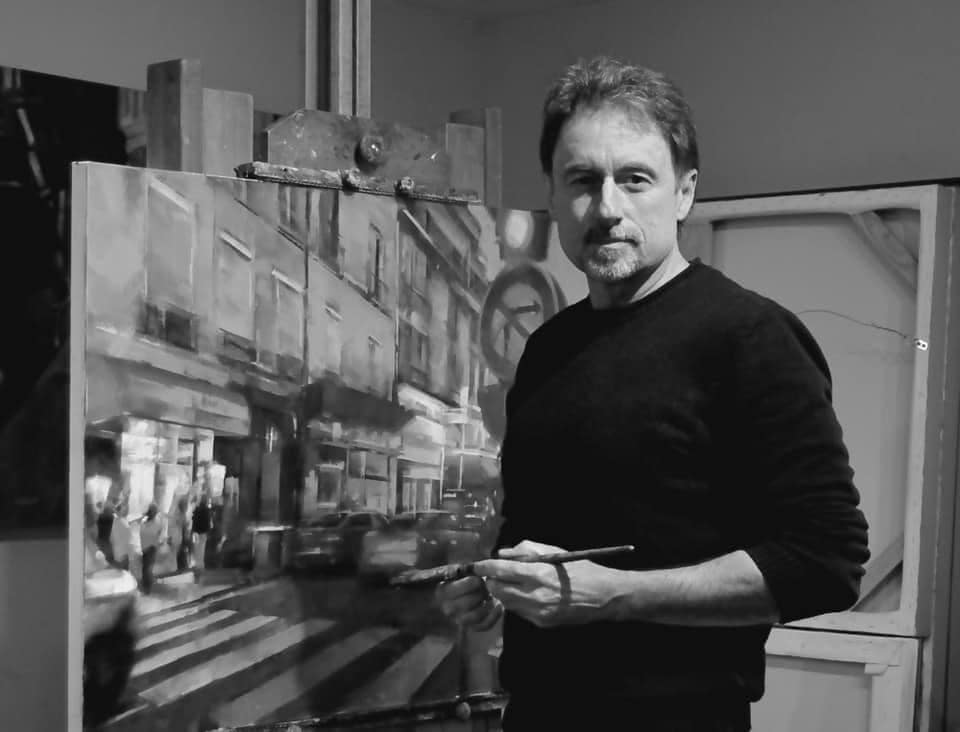 Mentoring Emerging Artists
Not sure if you're an emerging artist? Find your stage here.
MEDIUM: Oil Paint | Pastel Art | Charcoal Art
SPECIALTY: ✔ Generalist
All art is a form of story-telling, and mine tells the story of interpreting light – a constant element in my paintings. Whether it is the subtle colors of dusk, or a simple stream of light in a dimly lit interior, all these effects motivate me to capture the image on canvas of paper.
Throughout the years, I've worked in watercolor, acrylics, charcoal, pen & ink, and monotypes, but my primary focus is oils and pastels.
With oils, I enjoy the expressive brush strokes and the way paint can be manipulated on canvas or paper. With pastels, I love the texture, the explosive color, and the bold strokes I can achieve.
Desmond's EXPERTISE
Listed below are this Mentor's specialty skills. Join this group if you want to grow in these areas.
Specialty: ✔ Generalist
Supplies and Tools – what to use, where to save, and where to spend
Studio Setup for Art Production
Teaching How to Self Critique
JOIN NOW
select your mentorship group
If the group you're interested in has a waitlist, you have the option to join another group to get started. When your group opens we can transfer you over.
Emerging
Mentorship Membership
$ USD
87
/

Monthly Membership
Next session: December 20, 2023
On the 3rd Wednesday of every month
5:00 PM – 7:00 PM MST Wed

Not your timezone?
Select your timezone

Desmond O'Hagan was born in Wiesbaden, Germany, and was raised in the United States. He has been professionally painting for 30 years and resides in Denver, Colorado, where he devotes his time to his art in oils and pastels, and traveling throughout the world.
He has long been considered one of the leading urbanscape artists in the world.
In the field, he has won many major awards for his artwork – including:
Southwest Art Magazine's Award of Excellence

International Assoc. of Pastel Societies' Prix'd Pastel Award

IAPS Juried Show's The Maggie Price Award for Excellence

Colorado Governor's Invitational Art Show Award of Merit 2020, 2019, 2018
Awards at the Pastel Society of America's Annual Shows in New York City:
Mrs. Pearl Kalikow Award

Hudson Valley Art Association Award

Connecticut Pastel Society Award
For years, his artwork has been selected for inclusion in a number of prestigious exhibitions across America including Denver Rotary Club's "Artists of America", Colorado Governor's Invitational Art Show, The Pastel Society of America (NYC), and the Salmugundi Club in New York City.
Mr. O'Hagan has also been invited to exhibit artwork in Japan, China, Canada, and France.
Mr. O'Hagan is a Master Pastelist with the Pastel Society of America, and is listed in Who's Who in American Art, Who's Who in America, and in the Hall of Fame at the Art Institute of Colorado.
In May 2005, he was inducted into the International Association of Pastel Societies' "Master Circle". In 2018, he was awarded Eminent Pastelist status by IAPS.