Deborah Tilby
MASTER ARTIST
Unlock Your Artistic Potential
Mentorship is the fastest way to go from where you are today, to where you want to be!
Learn How Mentorship Works or join this mentors group below.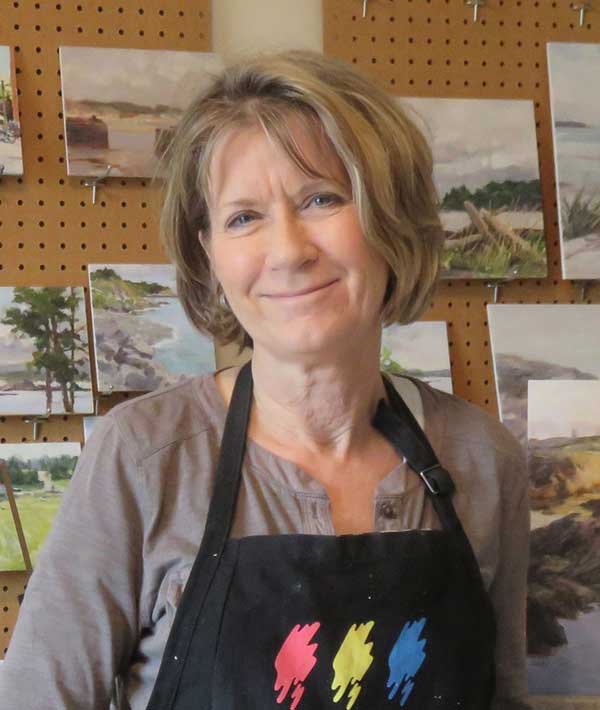 Mentoring Aspiring Artists
Not sure if you're an aspiring artist? Find your stage here.
MEDIUM: Oil Paint
SPECIALTY: ✔ Technical Skills
Light and shadow is what initially draws me to a subject; the challenge of capturing the mood, time of day, and season in a representational yet loose way is what keeps me painting. My aim, whether it be in the studio or in the field, is to use colour as I see it, with a particular fondness for neutrals and earth colours, soft violets, rusts, and greens. The way the paint goes on is equally as important as what I mix on the palette; my intention is to indicate and represent, without becoming bogged down in the minutiae.
Weathered boats, old brick and textured stone, crashing waves and trees in every season, all afford me the opportunity to explore my interpretation of textures with both brush and knife work.
 Accomplishing what I intend never ceases to be difficult, fascinating, and deeply fulfilling. It keeps me painting almost daily! 
"I am passionate about my work; I truly love it and paint every day.  Painting is a challenge, but always fascinating and deeply fulfilling."
Deborah's EXPERTISE
Listed below are this Mentor's specialty skills. Join this group if you want to grow in these areas.
Specialty: ✔ Technical Skills
Supplies and Tools – what to use, where to save, and where to spend
Teaching How to Self Critique
Studio Setup for Art Production
JOIN NOW
select your mentorship group
If the group you're interested in has a waitlist, you have the option to join another group to get started. When your group opens we can transfer you over.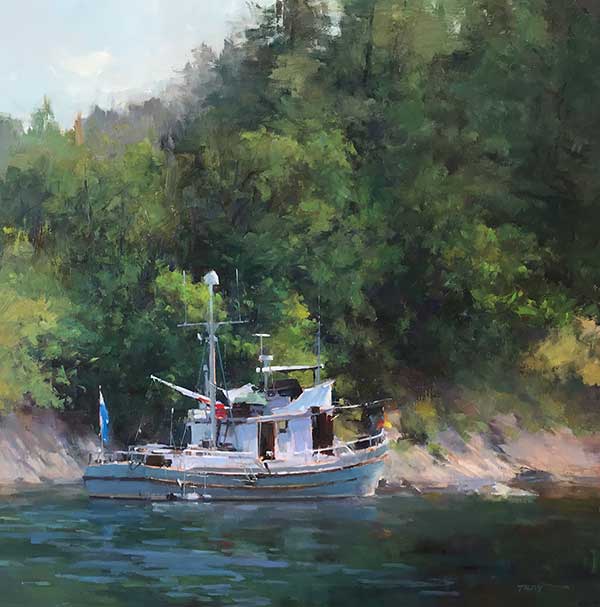 Deborah Tilby is a Canadian painter currently living in Victoria BC.  She is recognized as one of the top oil painters in the country and is a senior signature member of the Federation of Canadian Artists and has been awarded the status of Oil Painters of America Master.  Her work has won many international awards, has appeared in Fine Art Connoisseur, International Artist, Southwest Art, Arabella and Artist magazines and is in collections all over North America and Europe.
"Painting began for me with my first watercolour at age eighteen. I love watercolour and it held my interest for many years, before I began working with oils. I am Canadian but for fourteen years, England was home and European street scenes and landscapes were my subject. A move to the west coast of British Columbia turned my attention toward the beaches, boats, waves, and marinas of coastal living. Not entirely committed to trading Europe for Canada, I have travelled between the two, keeping my perspective fresh and allowing my work to straddle both continents. I now stick to oils most of the time, only occasionally reaching for my watercolours. I still love watercolour but am drawn to the flexibility, freedom, and richness that oils offer. 
I became a painter by way of being an observer – I have always noticed light and shadow, shapes, texture, composition and colour, and endeavouring to interpret my observations through painting has been a lifelong passion. That people choose my work to hang in witness of their lives is a bonus, both wonderful and humbling. "