cindy revell
MASTER ARTIST
Mastrius Artist Mentor
This artist is mentoring at Mastrius. Visit our how it works page for membership details.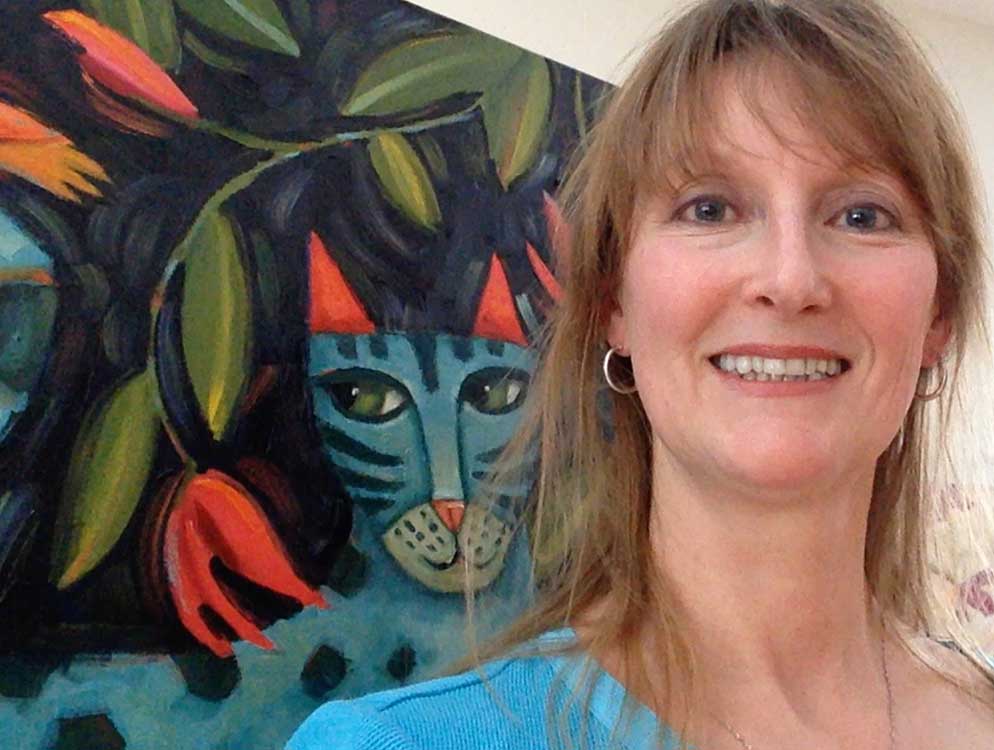 Mentoring Emerging Artists
Not sure if you're an emerging artist? Find your stage here.
MEDIUM: Oil Paint
SPECIALTY: ✔ Finding Your Artistic Voice ✔ Marketing & Branding ✔ Creating Bodies of Work
Vibrant flowers and spirited animals and birds have been showing up in my illustration and fine art for many years. The inspiration can come from anywhere. It can be found in the pistachio colour of an aspen trunk in the rain, a spotted horse in the pasture, the golden colour of light during a walk to the chicken house or the inquisitive birds which are a common element in a vivid mix of florals, patterns and animals. 
The seed for a painting can start as tiny thumbnail drawings in sketchbooks, notebooks and bits of paper that litter the studio. Sometimes the ideas come in an instant and sometimes they simmer for a long while. 
Cindy's EXPERTISE
Listed below are this Mentor's specialty skills. Join this group if you want to grow in these areas.
Specialty: ✔ Finding Your Artistic Voice ✔ Marketing & Branding ✔ Creating Bodies of Work 
Teaching How to Self Critique
"I had the pleasure of being in Cindy Revel's Mastrius group and was warmly welcomed by the group members and the talented teacher. Cindy provided me with valuable resources information and mentorship with live demos. Her gift at teaching gave me the both the skills and most importantly the confidence to grow  as an artist. Cindy meets you where you're at in your art journey and makes a concerted effort to provide feedback and exercises specific to your unique journey as an artist. Her work is vibrant, complex yet playful and whimsical. Her teaching style represents all of that and more!"
~ Elizabeth, Aspiring Artist
JOIN NOW
select your mentorship group
If the group you're interested in has a waitlist, you have the option to join another group to get started. When your group opens we can transfer you over.
Emerging
Mentorship Membership
$ USD
87
/

Monthly Membership
Next session: April 19, 2023
On the 3rd Wednesday of every month
This global group meets at:
4:00 PM - 6:00 PM MDT

Wed


6:00 PM - 8:00 PM EDT

Wed


11:00 PM - 1:00 AM BST

Wed


8:00 AM - 10:00 AM AEST

Thu



...and your timezone too!
Contact us if you need help
Cindy Revell's vividly colored oil paintings are created in a sunny studio where a shrimpy, personable mutt and ancient cat keep her company and provide inspiration. Revell and her talented husband who can build or fix anything live in the countryside outside of Sherwood Park, Alberta. 
After a few detours, Cindy took Environmental Graphic Design at Grant MacEwan University. It was a magical and inspiring time as she learned about art history, design, and illustration. A love of the old masters was born and she knew that art was a world in which she belonged.  After college Cindy worked as a graphic designer and illustrator during which time she developed a whimsical and simple style using scratchboard. It would strongly influence her future work. 
But life is never static and change was coming. Cindy began oil painting as a way to invigorate her illustration work and in doing so her interest in the old masters and her love of realism was rekindled. She began painting realistic still lifes full of glowing light and the rich warm palette that was such a key part of her illustration. It was at this time that a gallery owner asked Cindy if she would do an exhibit of her illustration. She was extremely busy with her work and oil painting and the timing didn't seem right, in addition she felt that her small acrylic illustrations would not make a suitable show. But a seed was planted and the idea never completely left.  
Over the years Cindy's evolving work has been in numerous shows but there are some that have stood out for her because of high caliber of artists that she was showing with, gripping subject matter and personal accomplishment. Some special events are: The Best of Realism, Winstanley-Roark Fine Art, Cape Cod, MA, Contemporary Realism, Trudy Labell Fine Arts, Naples, Fl, Success, Federation of Canadian Artists, Vancouver, BC, The New Reality, Smith Kramer Travelling Museum Exhibition, USA, Tell Us A Story, Segil Fine Art, Old Town Monrovia, CA, Project Heroes, Travelling Exhibition, Canada, and Be Your Own Bird: Solo show, Daffodil Gallery, Edmonton, AB. Cindy and her work have been featured in numerous newspaper articles and published in many magazines.  
Cindy was honoured with a nomination for a Governor General's award for illustration early in her career and has received numerous awards recognizing both her illustration and oil painting.  She is a member of The Oil Painters of America and a signature member of The Federation of Canadian Artists (AFCA). She is represented by The Artym Gallery, Invermere, BC, Bezanson Art Consultant, Vancouver, BC, Candler Art Gallery, Camrose, AB, Illustration Online LLC Philadelphia, PA, and Xanadu Gallery, Scottsdale, AZ. 
Today you will still find Cindy dreaming, thinking 'what if' and 'anything is possible' as she creates magical worlds in paint. While she is serenaded by bird song coming through the delightfully squeaky screen door of her studio she is reminded of our magnificent individuality within the great connection of all life and tries to get a little bit of that in each painting.