Cecy Turner
MASTER ARTIST
Unlock Your Artistic Potential
Mentorship is the fastest way to go from where you are today, to where you want to be!
Learn How Mentorship Works or join this mentors group below.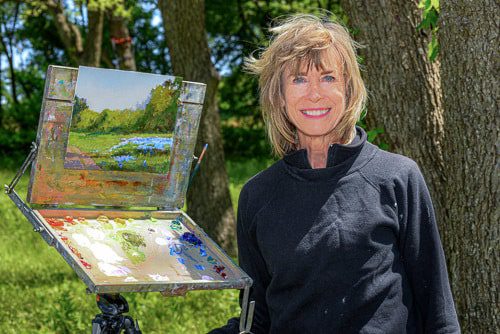 Mentoring Emerging Artists
Not sure if you're an emerging artist? Visit our How It Works page.
MEDIUMS: Oil | Watercolor
SPECIALTY: ✔ Technique
Cecy Turner, who paints both in oil and watercolor,  is an award-winning artist who has been painting and teaching for over forty-five years.  She takes ordinary subjects and makes them seem magically "bathed in light."  She loves to paint a large variety of subject matter to continue the challenge with each new painting and she constantly works on her development as an artist. Her frequent plein air painting gives her much pleasure because of her lifelong love of the outdoors, as well as sharpening her decision-making and observation skills. It is her favorite way of painting because of its urgency and freshness. 
Cecy's EXPERTISE
Listed below are this Mentor's specialty skills. Join this group if you want to grow in these areas.
Specialty: ✔ Critiques ✔ Composition ✔ Color
Mapping Out Big Shape Plan Before Starting A Painting
"Mastrius has done wonders for my confidence. I have managed to step way outside of my comfort zone which has in turn given rise to so many more opportunities to further my art career."
~ Deb, Emerging Artist
JOIN NOW
select your mentorship group
If the group you're interested in has a waitlist, you have the option to join another group to get started. When your group opens we can transfer you over.
Cecy's work has been selected for numerous national exhibitions, including Oil Painters of America, American Impressionist Society, Salon International, Top 100 Arts for the Parks, Top 100 Paint the Parks, American Artists Professional League Grand National Exhibitions, National Watercolor Society and National Oil and Acrylic Painters Society.  Her paintings have won awards in most of these competitions. Recent awards include Award of Excellence in American Women Artists Tucson Desert Museum Exhibit, Best of Show in the Rocky Mountain Plein Air Painters (RMPAP) Centennial Celebration for Rocky Mountain National Park,  Best Landscape in the National Oil and Acrylic Painters Society "Best of America," First Place in the Women Artists of the West 43rd National Exhibition, and the Irving Art Center $1,000 Award of Excellence in the five state Texas and Neighbors Exhibition, to name a few.
Cecy's work has been shown in numerous solo and group shows in the U.S. and Japan.  Her work is found in private and public collections throughout the U.S. and Europe, such as the Brevard Art Museum, National Audubon Society and Paralyzed Veterans of America, and many more.
Cecy is a Signature Member of the American Impressionist Society, National Watercolor Society, Southwestern Watercolor Society, National Oil and Acrylic Painters Society, American Plains Artists, American Women Artists, Outdoor Painters Society, Plein Air Artists Colorado, and Texas and Neighbors. She is a Master Signature Emeritus Member of Women Artists of the West and a member of Oil Painters of America. Articles about Cecy have been published in American Artist Magazine, Watercolor Artist Magazine (cover, February, 2010 issue), Southwest Art Magazine, Art of the West Magazine and Western Art Collector and her work has been featured in the book, The Best of Flower Painting.  She was chosen as an "Artist to Watch" by Southwest Art Magazine.