Rodrigo Mateo
PROFESSIONAL ARTIST
Mastrius Artist Mentor
This artist is mentoring at Mastrius. Visit our how it works page for membership details.
Mentoring Aspiring Artists
Not sure if you're an aspiring artist? Visit our How It Works page.
MEDIUM: Oil Paint | Graphite Art
SPECIALTY: ✔ Critiques, ✔ Composition, ✔ Tonal Values
Rodrigo Mateo (b. 1984) is originally from Buenos Aires Argentina and emigrated to the United States in 1998 where he received a B.A. in photography at the State University of New York at New Paltz. He graduated from Grand Central Atelier four year training program in 2012 under Jacob Collins and then continued private studies with Michael Klein in New York and Paul Ingbretson in New Hampshire.
Rodrigo exhibits regularly with Williams Fine Art Dealers, Collins Galleries, Cooper & Smith and Eleven Street Arts. His work has also been exhibited at Still Point Arts Gallery and Robert Simon Fine Arts in New York City.
Awards and honors include three years at the Hudson River School Fellowship for Landscape; La Napoule Art Foundation scholarship in France and Decorative commissions for the C.S. Lewis Institute in Ohio.
Rodrigo is a painting instructor at Grand Central Atelier concentrating on the copying of old masters figure painting, drawing and still life. He currently resides in Long Island City, New York.
Rodrigo's EXPERTISE
Listed below are this Mentor's specialty skills. Join this group if you want to grow in these areas.
Specialty: ✔ Critiques, ✔ Composition, ✔ Tonal Values
Studio Setup for Art Production
Teaching How to Self Critique
Supplies and Tools – what to use, where to save, and where to spend
"Mastrius has done wonders for my confidence. I have managed to step way outside of my comfort zone which has in turn given rise to so many more opportunities to further my art career."
~ Deb, Emerging Artist
JOIN NOW
select your mentorship group
If the group you're interested in has a waitlist, you have the option to join another group to get started. When your group opens we can transfer you over.
ASPIRING
Mentorship Membership
$ CAD
75
/

Monthly Membership
Next session: March 18, 2023
On the 3rd Saturday of every month
Find Your Timezone:
12:30 PM - 2:30 PM MDT

Sat


2:30 PM - 4:30 PM EDT

Sat


6:30 PM - 8:30 PM GMT

Sat


5:30 AM - 7:30 AM AEDT

Sun



...and your timezone too!
Contact us if you need help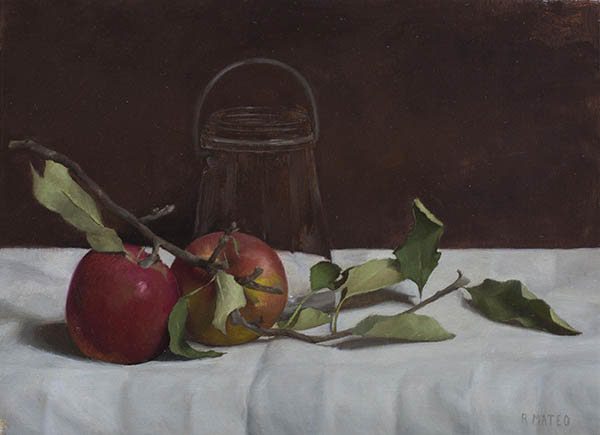 Education
2007 Graduated from State University of New York at New Paltz, Bachelor of Science in Photography
2013 Grand Central Academy, Four Year Program
2010 Hudson River Fellow
2019-2021 Summer Intensive with Artist Paul Ingbretson
Residencies
2019 Chateau La Napoule Summer Residency. La Napoule, France