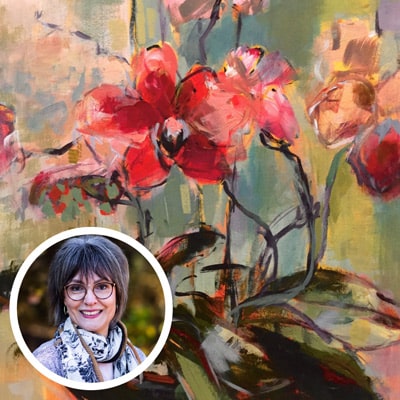 The Power Of Value On Color
You will learn how to use value to manipulate color to create interest, connection and an emotional response.
Instructor: Marjorie Mae Broadhead
Audience: Fine Art Painters
For Stage(s): Aspiring
Medium: Acrylic
Not sure what stage you are? Visit our How It Works page for details.
Wednesday, August 30, 2023
1 sessions, 7hrs with 1h lunch break
9:00am – 5:00pm MT

Course Description
When colour touches the canvas:
• Magic happens
• There's instant connection
• There's an emotional response
…sometimes
So what's the 'secret' to creating a work that draws viewers into the beauty of your imagination… most times?
What makes it happen?
In this class we will be exploring how VALUE is the key to an effective use of COLOUR. We will practice getting the best results from colour through numerous quick studies based on a reference (you choose whether to work from your own or to use the one provided).
Instead of creating a single painting, our studies are designed to aid you in bringing your colours to life in all of your future projects. I want you to experience the magic that can happen when colour touches the canvas!
So gather your supplies and join me for a day of fun and exploration! I would love to have you join us.
Supply List
Photo References
will be available but feel free to use your own source of inspiration.
Paint Colours
NOTE: The class will be taught using acrylic, but each student is free to use the medium of their choice.
Ivory Black
Titanium White
Hansa Yellow Light
Ultramarine Violet
Alizarin Crimson
Primary Cyan
Cadmium Red
Ultramarine Blue
Yellow Ochre
Support
Support Board
Canson Watercolour 140 lb booklet (approx. 12" x 18")
Painters Tape Brushes
1" Flat Brush
Pallet Knives (optional)
Miscellaneous
Spray Bottle (with water)
Water Bucket
Paper Towel
Pallet
Slow-dry Medium (optional)
1 Graphite Stick and Pencil (for mark making)
Instructor Bio
Marjorie Mae is best known for her vibrant and dramatic interpretations of the explosion of colour she encounters as she explores nature's lush and enchanting beauty (she was mesmerised by a recent visit to Monet's gardens).
Every painting is a journey of discovery for her; whether she is capturing the light reflecting in her garden or conveying the elegance of a bloom, her work evokes emotion and tells an engaging story. It is her love and knowledge of colour that gives her compositions their vivid quality. Workshops and online courses from artists of varied disciplines have opened her eyes to the countless ways of expressing her passion for colour and texture. As a new painting comes to life under her brushes she has been heard to comment, "This is where I feel most alive!"
She has also enjoyed instructing small groups of budding artists and has been thrilled to watch as they take courage to place paint on canvas! Her goal is to continue to develop her art as a loose and painterly expression of the world she encounters.
Marjorie Mae has been an active member of the Federation of Canadian Artists since 2016 and was recently (July 2020) awarded SFCA status by the Federation "In Recognition of Extraordinary Achievement in the Field of the Visual Fine Arts."
How many registrations are required for a course to start?
A minimum of 6 registrations are required.  If 6 registrations are not received by the time the course is 24 hours from starting, the course will be cancelled and all registrants will receive complete refunds.
What is the maximum number of people in a course?
This varies for each course.  The maximum number of registrations is decided by the instructor.
Can I get a refund?
Up until 24 hours before a course's first session you can receive a complete refund. You can cancel your registration via the My Account portal, or by contacting Registrations@Mastrius.com.
After this time no refunds will be given (if you have extenuating circumstances you believe justify a refund, contact us at Registrations@Mastrius.com).
Can I register for a course already in progress?
No. Once a course has started, no new registrations are accepted.
Where will my course be held?
All courses meet online over Zoom. You will need a device equipped with a camera and a microphone to fully participate. 
If you have not used Zoom before, learn about how to use it here.
If you don't regularly use Zoom, we recommend you join your first session 10-15 minutes early in case your computer needs to install or update Zoom.
How do I join my course?
You will receive a welcome email from Registrations@Mastrius.com when you register.  This email includes the Zoom link to join your course session.  You will also receive 24 hour and 2 hour reminder emails before each session, and each of these emails includes the Zoom link.  You can also access the Zoom link to join your course in your MastriusChat group.
Are the sessions recorded?
Yes, every session is recorded and are typically available 24 hours after a session ends.  All session recordings will remain available for the duration of the course, and for one month following the last session.  The recordings are viewable within the MastriusChat platform, and cannot be downloaded.
What if I miss a session?
You'll be able to watch the session's recording.  If you have questions the recording doesn't address, you can ask them in the chat feed of your course's private MastriusChat group.
What is MastriusChat?
MastriusChat is an online discussion platform.  You and your fellow course registrants will be assigned to a private MastriusChat group where you can connect and support eachother via the chat "feed". Your group is also where you'll access the session recordings. Other resources in your MastriusChat group include a link to join your course sessions, and a library your instructor can use to share resources.
What is a Navigator?
A Navigator is an artist who joins your course to ensure both instructor and registrants have an enjoyable experience. They support (as required) with technology, timekeeping, moderating questions, and between-session discussions on MastriusChat. The Navigator has also joined the course as participant, and just like you, they're wanting to grow their skills and learn the material.
I'm not ready to register because I still have questions. Who do I contact?