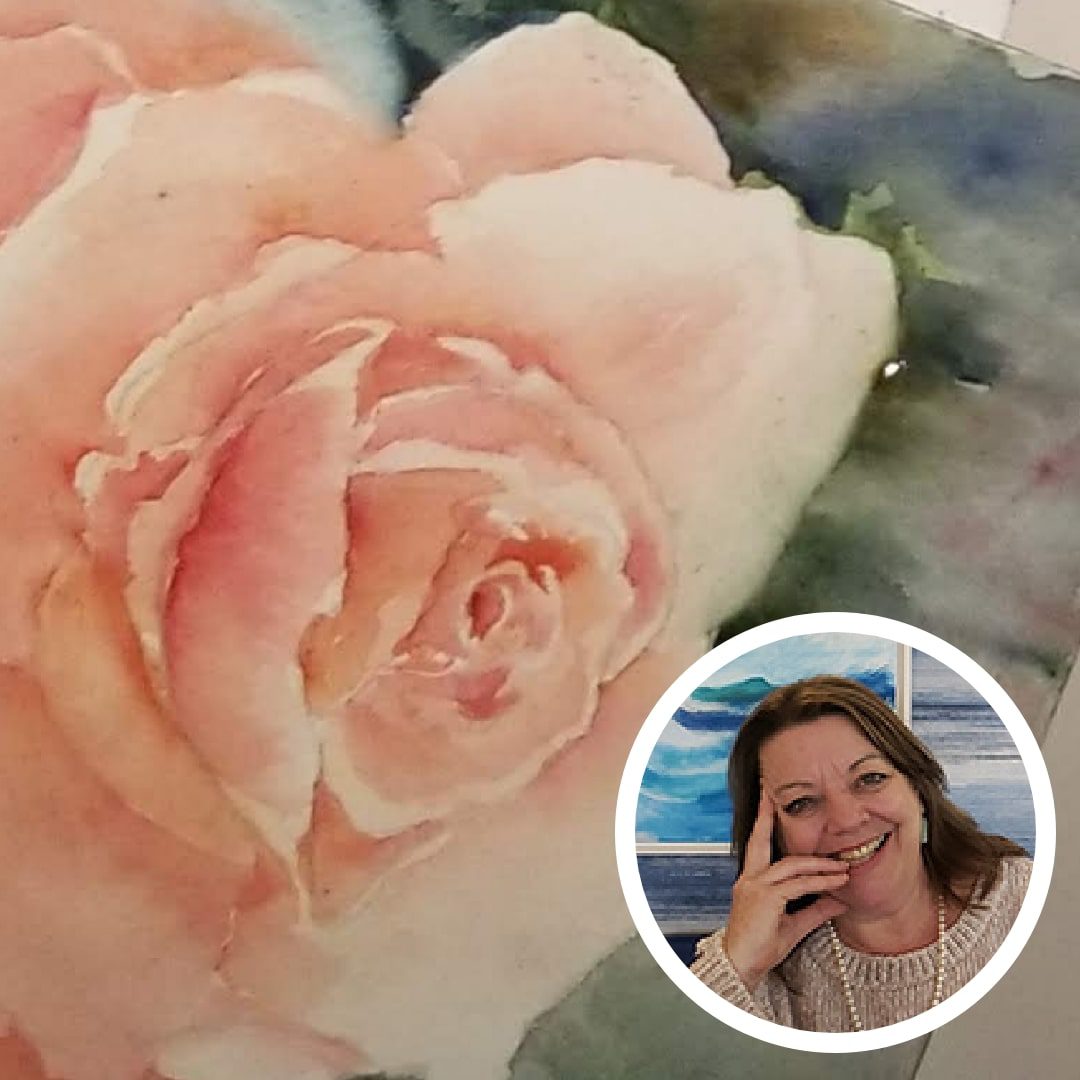 The Beauty of Watercolor:
A Beginner's Course
Discover the joys of watercolor painting! This workshop is perfect for beginners who want to learn basic techniques and develop their skills in a fun and supportive environment. Understand the process of mixing colors, creating texture, and mastering brushstrokes. A few basic materials and your enthusiasm are all you need!

Instructor: Sue Dion
Audience: Fine Art Painters
For Stage(s): Beginner, Aspiring
Medium: Watercolor
Not sure what stage you are? Visit our How It Works page for details.
Starts on Saturday, June 24, 2023
June 24 | June 25
2 sessions, 3 hrs each, daily
10:00am – 1:00pm MT

Course Description
Watercolor painting is a beautiful and versatile medium that allows you to create stunning works of art with just a few simple tools. If you're new to watercolor painting, this course is the perfect place to start!
Join Master Artist Sue Dion for a weekend of artistic exploration as she delves into the fundamentals of watercolor painting. With over twenty years of teaching experience, Sue will guide you through the fundamentals of watercolor painting, including color theory, brush techniques, and basic composition. We'll start with the basics, such as how to set up your workspace, choose the right materials, and mix colors to create a harmonious palette.
As you progress through the course, you'll explore different techniques for applying paint to paper, including wet-on-wet, wet-on-dry, and dry-brush techniques. You'll also learn how to create texture and depth in your paintings using a variety of techniques, such as masking, splattering, and lifting.
Supply List
Pigments:
If you already have watercolor pigments, bring what you've got! Be sure to have on hand at least a warm and cool of the three primaries.
Some recommendations:
Primary Magenta (Permanent Rose)
Cadmium Red
Cerulean Blue or Manganese Blue
Ultramarine Blue
Cadmium Yellow Light or Hansa Yellow
Quinacridone Gold
Brushes:
You'll want a couple of rounds (#6 and #10)
A 3⁄4" flat and a script liner at the least
I prefer a sable/synthetic blend but use synthetic brushes as well
Beste Nadel Round (Creative Mark) or Rosemary Brushes Sable/Sythetic Blend
Windsor and Newton 3⁄4" flat Series 995, Script Liner #
Paper:
Arches 140# Cold Press or Fabriano Uno 140 lb. cold press
Other Supplies:
Pencil
Eraser
Sketchbook
9 x 12 or 11 x 14 pad inexpensive watercolor paper
Masking fluid
Paper towels
Blow dryer
Check out my Watercolor Materials Board (@suedionart) on Pinterest (every item has a link where you can buy it!). Also, check out my Materials Video on YouTube (@suedionart) for more information. We'll discuss materials in greater detail during the first class.
Instructor Bio
My paintings explore the intersection of abstract realism and expressionism, using texture and value to create lost edges and add a sense of mystery to the everyday. My creative process is guided by the poetic beauty and grace of nature, and I am constantly experimenting with new materials and techniques to bring my artistic vision to life. I find that floral forms offer a rich and versatile language for expressing the shapes, lines, and forms universally found to be beautiful.
I draw inspiration from themes related to symmetry in Art Nouveau and the intuitive beauty of expressionism, which have shaped my artistic vision and influenced my creative process. I am particularly drawn to the natural references from these art movements, which I often incorporate into my work. Through my art, I aim to express the feelings of my true self, be they ones of joy or sadness.
I believe that art has the power to unite and to empower, and I am committed to using my work to inspire others to share their unique vision of beauty. Through my paintings, I hope to create a sense of connection and contemplation, inviting viewers to engage with their own experiences of the natural world and to explore the complexity and depth of their emotions.
Thank you for taking the time to explore my art. I invite you to engage with my work and to join me in my artistic journey.