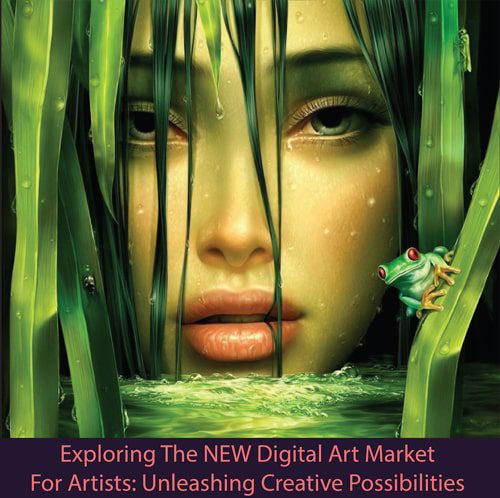 Make money while you sleep: Create a true legacy for your artwork
Take your art business to the next level! Get the tools and knowledge you need to confidently navigate the digital art space—expand your art business, connect with a new audience of collectors, and maximize your earning potential.
Instructor: Jennifer Armand
Audience: Any
For Stage(s): Any
Medium: Any
Not sure what stage you are? Visit our How It Works page for details.
Starts on Wednesday, July 5, 2023
July 5 | July 12 | July 19 | July 26
4 sessions, 1 hrs each, weekly
6:00pm – 7:00pm MT

Course Description
As an artist, it can be challenging to find new revenue streams and effectively market your work. This is where the digital art space comes in!
This course is designed for artists of all levels looking to add a new revenue stream to their art business. Through this training, you will gain a clear understanding of the digital art space and how to leverage it to increase your revenue as an artist. You will discover the different platforms available to artists and the various types of currency used. By the end of this course, you will also have the tools and knowledge needed to effectively market your work and connect with collectors in this exciting new space.
This course is essential for artists who want to stay ahead of the curve and take advantage of a new and growing opportunity!
INSTRUCTOR BIO
Innovation will leave you behind if you don't choose to be a part of it. Jennifer Armand decided to dive right in with web3 technology and NFTs. Her company, Boris Walks Alone Art Inc., helps artists get their work on the blockchain where they can find new revenue streams in a broader market and explore the intersection between art and technology.
With 16 years of experience in the art industry, Jennifer is a valuable resource in digital art sales. Her extensive knowledge and expertise make her an vital asset to any growing artist!
How many registrations are required for a course to start?
A minimum of 6 registrations are required.  If 6 registrations are not received by the time the course is 24 hours from starting, the course will be cancelled and all registrants will receive complete refunds.
What is the maximum number of people in a course?
This varies for each course.  The maximum number of registrations is decided by the instructor.
Can I get a refund?
Up until 24 hours before a course's first session you can receive a complete refund. You can cancel your registration via the My Account portal, or by contacting Registrations@Mastrius.com.
After this time no refunds will be given (if you have extenuating circumstances you believe justify a refund, contact us at Registrations@Mastrius.com).
Can I register for a course already in progress?
No. Once a course has started, no new registrations are accepted.
Where will my course be held?
All courses meet online over Zoom. You will need a device equipped with a camera and a microphone to fully participate. 
If you have not used Zoom before, learn about how to use it here.
If you don't regularly use Zoom, we recommend you join your first session 10-15 minutes early in case your computer needs to install or update Zoom.
How do I join my course?
You will receive a welcome email from Registrations@Mastrius.com when you register.  This email includes the Zoom link to join your course session.  You will also receive 24 hour and 2 hour reminder emails before each session, and each of these emails includes the Zoom link.  You can also access the Zoom link to join your course in your MastriusChat group.
Are the sessions recorded?
Yes, every session is recorded and are typically available 24 hours after a session ends.  All session recordings will remain available for the duration of the course, and for one month following the last session.  The recordings are viewable within the MastriusChat platform, and cannot be downloaded.
What if I miss a session?
You'll be able to watch the session's recording.  If you have questions the recording doesn't address, you can ask them in the chat feed of your course's private MastriusChat group.
What is MastriusChat?
MastriusChat is an online discussion platform.  You and your fellow course registrants will be assigned to a private MastriusChat group where you can connect and support eachother via the chat "feed". Your group is also where you'll access the session recordings. Other resources in your MastriusChat group include a link to join your course sessions, and a library your instructor can use to share resources.
What is a Navigator?
A Navigator is an artist who joins your course to ensure both instructor and registrants have an enjoyable experience. They support (as required) with technology, timekeeping, moderating questions, and between-session discussions on MastriusChat. The Navigator has also joined the course as participant, and just like you, they're wanting to grow their skills and learn the material.
I'm not ready to register because I still have questions. Who do I contact?