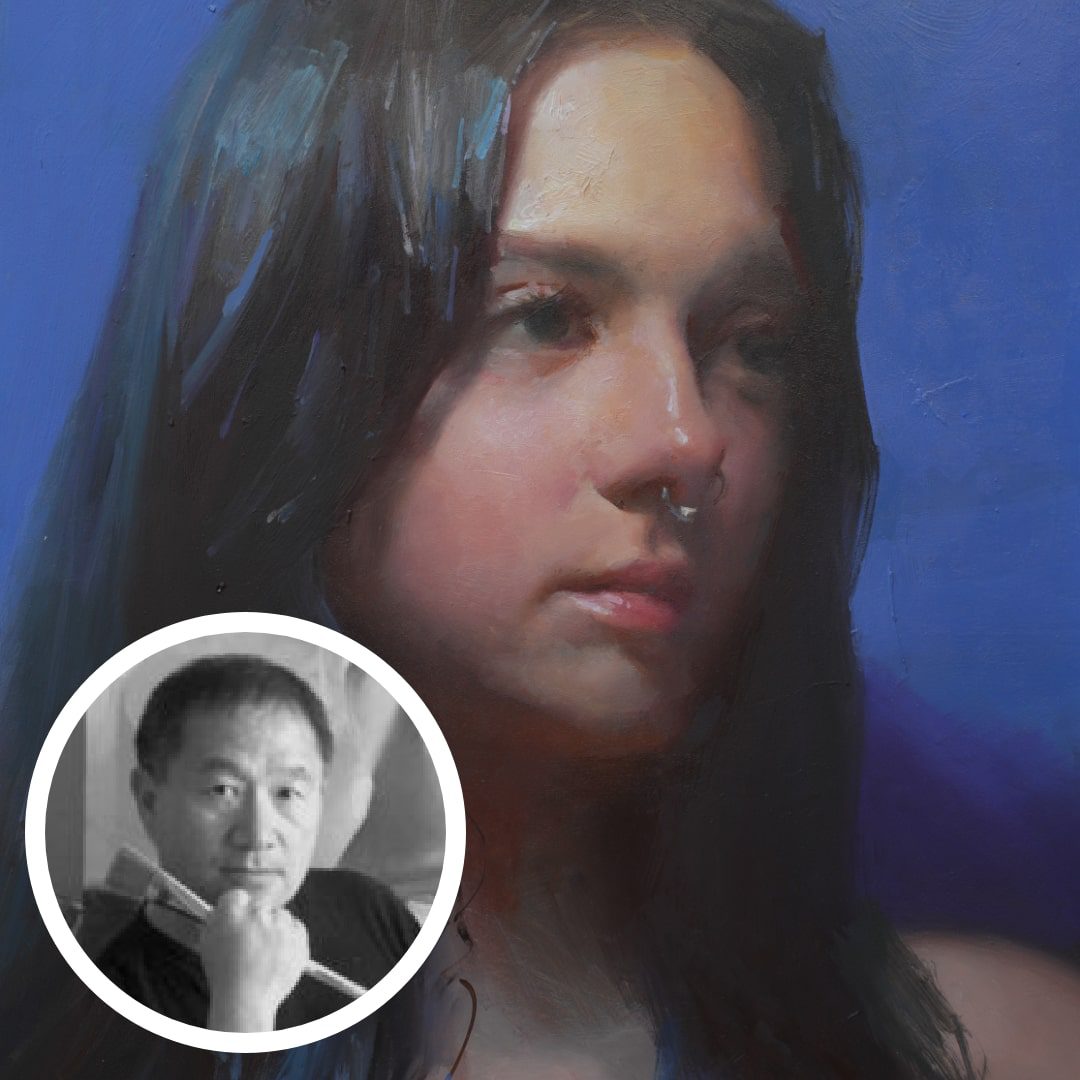 You Will Learn:
Zhaoming Wu's masterful painterly technique

How to use the alla prima approach – wet on wet painting

Masterful composition and use of color

How to create light on the human form

How to create mood and atmosphere using values and attention to edges
Instructor: Zhaoming Wu
Audience: Fine Art Painters
For Stage(s): Emerging, Accomplished, Professional
Medium: Oil
Not sure what stage you are? Visit our How It Works page for details.
Tuesday, August 15 & Wednesday, August 16, 2023
2 sessions, 7hrs each day with 1h lunch break
10:00am – 6:00pm MT

Course Description
In this 2-day workshop, Zhaoming will teach a traditional "painterly" technique of oil painting. It will be applied to portrait painting in an alla prima" approach. Emphasis will be placed on composition, color and understanding light on form. It will include the process of producing appropriate values and edges to create mood and atmosphere. Students will be led into portrait painting practice by observing Zhaoming's demonstrations along with individual instruction, and critiques.
Zhaoming's understanding of classical techniques and superb draftsmanship has enabled him to paint in a loose manner, developing his own concept and personal style.
Supply List
General
Linseed Oil
Paper Towels
Portable Easel Box, any type as long as it's easy to set up
Wet Painting Carrier Box
Palette, any type except paper palette
Brushes
Good quality Flat brushes for the small to medium sizes (#0,#1, #2, #4, #6, #8, #10 and #12)
Three good quality synthetic brushes for the larger sizes (one inch or one and half inch)
Two Fan Brushes (#2)
Angle shape brush used for oil, #5 #8 (optional)
Canvas
You will need 2 canvases, 18×14 or 16×20for portrait painting.
Gamsol (odorless mineral spirits) or Odorless Turpenoid (turpentine substitute)
Paint (recommended palette):
Titanium White
Cad. Yellow
Cad. Orange
Cad. Red
Terra Rosa
Alizarin Crimson
Burnt Sienna
Van Dyck Brown or Raw Umber
Ultramarine Blue
Cobalt Blue
Cerulean blue
Instructor Bio
Influenced by the 19th century French painters, Zhaoming Wu describes his work as representational, but not traditional classical. This technique can be seen through the combination of more modern elements. Utilizing his knowledge of heightened colors and values, he makes powerful, conscious decisions about their application. Active for many years as both an artist and a teacher, Zhaoming has works exhibited in museums and private collections around the world. The national and international publications have highlighted his vibrant career and technique.
He has been featured in major domestic art magazines such as Fine Art Today, Fine Art Connoisseur, American Art Collector, Southwest Art, Art of West and Plein Air Magazine. International publications include Arte Y Libertad (Spain), Art Panorama (China) and Pratique des Arts, (France).
He has published 11 books and was featured in 3 instructional DVDs. Major awards and honors have been given to Zhaoming Wu. These organizations include the International Artist's Magazine, Oil Painters of America and the National Oil and Acrylic Painter's Society, among others. For 9 consecutive years, he was a juror of an international art contest at the Museum of Modern Art in Barcelona, Spain.
How many registrations are required for a course to start?
A minimum of 6 registrations are required.  If 6 registrations are not received by the time the course is 24 hours from starting, the course will be cancelled and all registrants will receive complete refunds.
What is the maximum number of people in a course?
This varies for each course.  The maximum number of registrations is decided by the instructor.
Can I get a refund?
Up until 24 hours before a course's first session you can receive a complete refund. You can cancel your registration via the My Account portal, or by contacting Registrations@Mastrius.com.
After this time no refunds will be given (if you have extenuating circumstances you believe justify a refund, contact us at Registrations@Mastrius.com).
Can I register for a course already in progress?
No. Once a course has started, no new registrations are accepted.
Where will my course be held?
All courses meet online over Zoom. You will need a device equipped with a camera and a microphone to fully participate. 
If you have not used Zoom before, learn about how to use it here.
If you don't regularly use Zoom, we recommend you join your first session 10-15 minutes early in case your computer needs to install or update Zoom.
How do I join my course?
You will receive a welcome email from Registrations@Mastrius.com when you register.  This email includes the Zoom link to join your course session.  You will also receive 24 hour and 2 hour reminder emails before each session, and each of these emails includes the Zoom link.  You can also access the Zoom link to join your course in your MastriusChat group.
Are the sessions recorded?
Yes, every session is recorded and are typically available 24 hours after a session ends.  All session recordings will remain available for the duration of the course, and for one month following the last session.  The recordings are viewable within the MastriusChat platform, and cannot be downloaded.
What if I miss a session?
You'll be able to watch the session's recording.  If you have questions the recording doesn't address, you can ask them in the chat feed of your course's private MastriusChat group.
What is MastriusChat?
MastriusChat is an online discussion platform.  You and your fellow course registrants will be assigned to a private MastriusChat group where you can connect and support eachother via the chat "feed". Your group is also where you'll access the session recordings. Other resources in your MastriusChat group include a link to join your course sessions, and a library your instructor can use to share resources.
What is a Navigator?
A Navigator is an artist who joins your course to ensure both instructor and registrants have an enjoyable experience. They support (as required) with technology, timekeeping, moderating questions, and between-session discussions on MastriusChat. The Navigator has also joined the course as participant, and just like you, they're wanting to grow their skills and learn the material.
I'm not ready to register because I still have questions. Who do I contact?