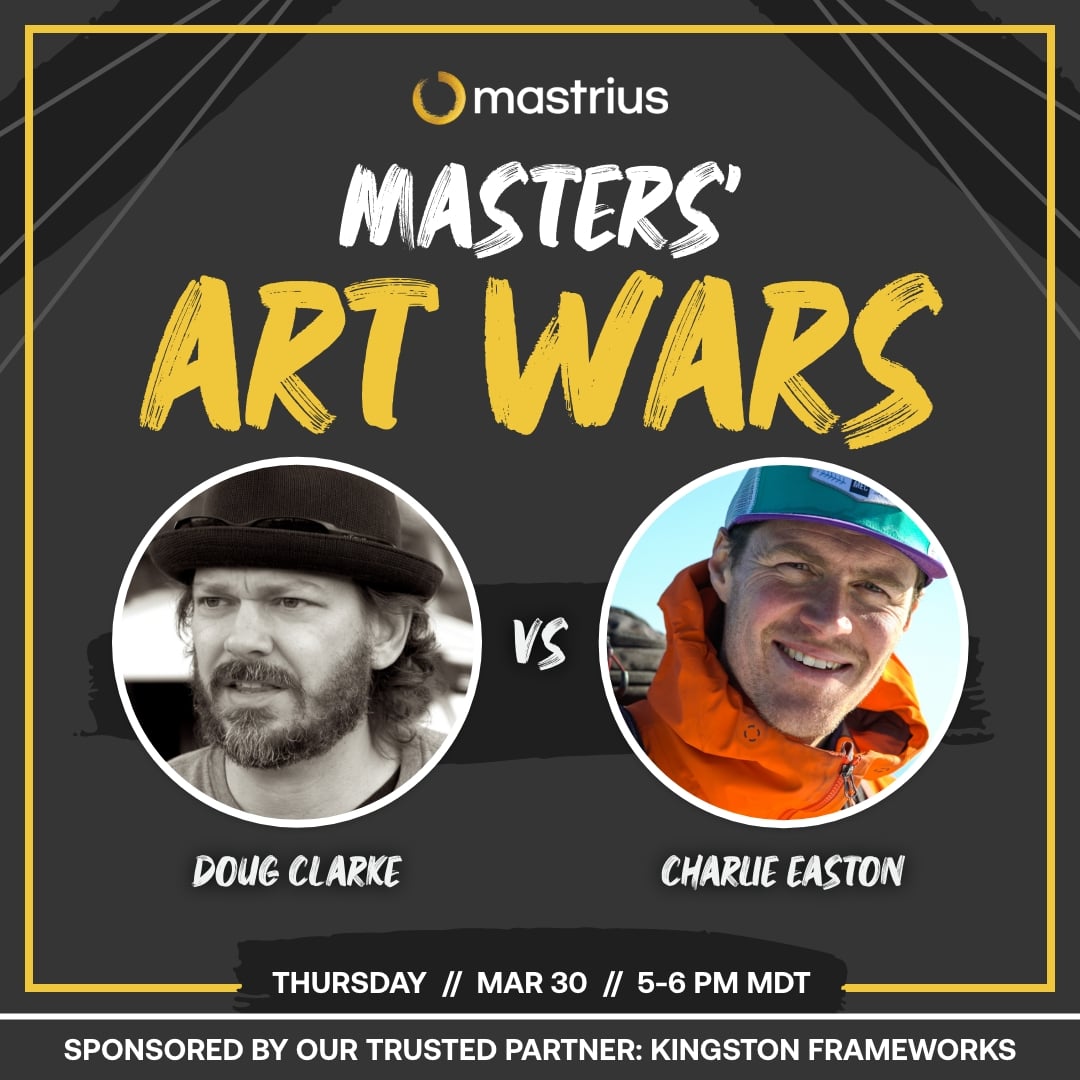 Art Wars: Underpainting in Red: Doug Clarke vs. Charlie Easton
Thursday, March 30
5 – 6pm MDT
7 – 8pm EDT
12 – 1am BST (Friday)
10am – 11am AEDT (Friday)
Masters: Doug Clarke and Charlie Easton
Host: Julie deBoer
GET YOUR EVENTS MEMBERSHIP TODAY!
SAVE AT LEAST $19 every month! Members always attend events for FREE. Plus, you will gain access to event recordings and the online Mastrius Community Chat.
Join Mastrius Master Artists Doug Clarke and Charlie Easton for LIVE ART WARS: Underpainting in Red!
See the Masters faceoff in their studios! 
Charlie and Doug will:
Paint live from their own studios—just for us!

Use the same reference photo for inspiration and underpaint in red;

Talk about why artists underpaint and how to do it successfully;

Whip up a work of art in a 45-minute time limit; 

Show us how to be brave and confident when painting under constraints; and

Answer YOUR QUESTIONS while painting!
Always LIVE & INTERACTIVE!
🚩 Tickets are only $7 | FREE for Mastrius Members!
🎙️  Event recording available for Mastrius Members only
Meet Doug Clarke
Oil | Digital
Doug Clarke is an award winning Plein Air and Studio painter based out of Virginia Beach. He works with both traditional oils and modern digital art as his preferred mediums of choice.
Graduating with Honors, Magna Cum Laude, from Virginia Commonwealth University, Doug's work has evolved from commercial to fine art. As an active member of the Norfolk Drawing Group, the painter strives for excellence in his figure drawings and paintings.
His commitment to life drawing and painting, led him outdoors to paint "en plein air". There he realized his passion for capturing light and nature in his own personal way.
In pursuit of mastering his craft, he has participated in local and national plein air events across the country and has won numerous awards.
When painting outdoors, Doug is very passionate about capturing the vanishing landscapes of Southeastern Virginia. As an experienced art teacher, he loves to share his knowledge with students and other fellow artists. Presently, he is a commercial art instructor teaching digital art both day and evening courses.
Click Here to learn more about Doug
Meet Charlie Easton
Oil | Acrylic
Charlie Easton comes from a family of British artists. He moved to Canada in 2006 and immediately fell in love with the same scenery that inspired many of the Group of Seven.
A prolific painter of landscapes and seascapes in both oils and acrylics, Charlie is represented by galleries across North America and Europe where he regularly has solo exhibitions of his work.
He is a Senior Signature Member of the Federation of Canadian Artists (SFCA) and has studied at the Slade School of Fine Art and at Emily Carr University.
His teaching is now in demand and in 2021 he will be on the faculty at the Plein Air Convention in Denver, Colorado.
Charlie has a studio in Vancouver, but his first love is painting on location in BC, Alberta, California and beyond. He has had residencies in Haida Gwaii, with The Haida Nation and Parks Canada, in Banff and in Whistler.
He is a proud brand ambassador for the Canadian outdoor brand MEC who help him get to the remotest places to paint, and keep him dry.
Click Here to learn more about Charlie
Event Details
Date: March 30, 2023
Start time: 05:00 p.m. MDT
End time: 06:00 p.m. MDT
Venue: Online
Email: mastrius@mastrius.com

Since 1994 Tri-Art Manufacturing is a Canadian family run company producing a wide range of artist paints in Kingston Ontario. Tri-Art is known by artists nationally and internationally for it's high quality products. Starting with 3 founding members and a single paint line, in a 100 square foot area, Tri-Art has now grown to employ over 70 people, and produce over 20 different paint lines in a production area of over 100,000 square feet.