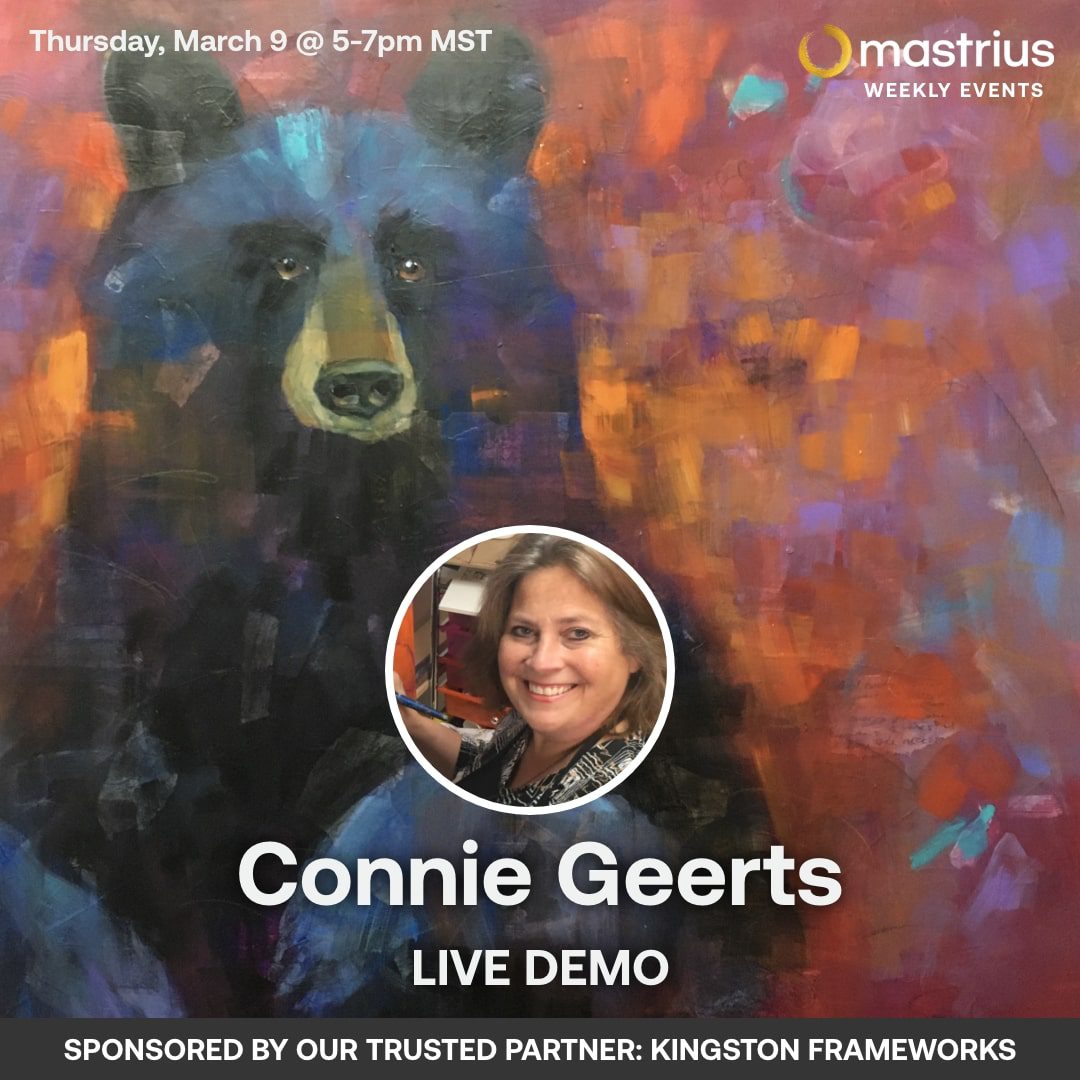 Thursday, March 9
5 – 7pm MST
7 – 9pm EST
12 – 2am GMT (Friday)
11am-1pm AEDT (Friday)
Mentor: Connie Geerts
Host: 
GET YOUR EVENTS MEMBERSHIP TODAY!
SAVE AT LEAST $26 every month! Members always attend events for FREE. Plus, you will gain access to event recordings and the online Mastrius Community Chat.
Join Mastrius Master Connie Geerts for a LIVE Demo: Painting Animals in Mixed Media.
Multi-disciplinary Master Artist Connie Geerts devotes her time to acrylic and mixed media painting as well as sculpture. She creates her vibrant, colourful, and playful artworks inspired by the beauty of nature. Connie loves contrasting materials, as you will learn in this hands-on demo!
During this 2-hour live demo, Connie will demonstrate:
How she prepares the backgrounds for her animal paintings;

How to create enticing layers with mixed media and transparent acrylic paints;

How to begin and how to simplify and refine as you go;

How to paint the details of eyes, hair, and more;

And, as always, bring YOUR questions!
Always LIVE & INTERACTIVE! 
Come watch the demo or paint along. All your painting questions are welcome!
🚩 Tickets are $25 | FREE for Mastrius members
🎙️ Event recording available for Mastrius members only
Meet Connie Geerts
Acrylic | Mixed Media | Sculpture
Connie Geerts was born in 1965, the youngest of six children raised on a farm in Southwestern Ontario, Canada. It was a fairly idyllic childhood filled with lots of unsupervised exploring and evenings spent with her siblings drawing at the kitchen table.
Geerts started her professional art career with a move to the West coast in 1987. After exploring many materials she fell in love with acrylic painting and has been working in the medium ever since. During this time, she also worked as a news videographer, and started creating sculpture, joining the Vancouver Island Sculptors Guild. Geerts began showing her work professionally in 1997, and has been consistently represented by a number of galleries since that time.
Event Details
Date: March 09, 2023
Start time: 05:00 p.m. MDT
End time: 07:00 p.m. MDT
Venue: Online
Email: mastrius@mastrius.com

Since 1994 Tri-Art Manufacturing is a Canadian family run company producing a wide range of artist paints in Kingston Ontario. Tri-Art is known by artists nationally and internationally for it's high quality products. Starting with 3 founding members and a single paint line, in a 100 square foot area, Tri-Art has now grown to employ over 70 people, and produce over 20 different paint lines in a production area of over 100,000 square feet.