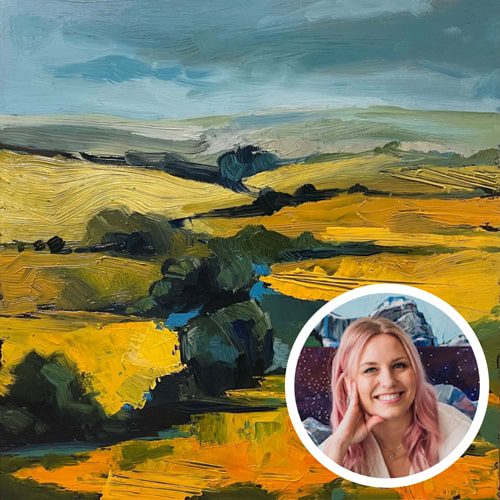 Landscapes using Palette knives with Oil and Cold Wax
Learning the uses of cold wax in oil paint allows for unique textures, subtle satin sheens and quicker drying times – something every oil painting artist could use!
Instructor: Samantha Williams-Chapelsky
Audience: Fine Art Painters
For Stage(s): Aspiring, Emerging, Professional, Master
Medium: Oil & Cold Wax
Not sure what stage you are? Visit our How It Works page for details.
Starts on Saturday, November 4, 2023
Nov 4 | Nov 5
2 sessions, 4 hrs each, daily
11:30am – 3:30pm MT

Course Description
This workshop will open up artists to the effects of cold wax in their oil paintings! By using a photo reference, students will master landscape simplification using Samantha Williams-Chapelsky's simplification process. We will then practice mark making with palette knives and creating unique effects with this common tool. And lastly we will learn about cold wax and its uses and application techniques. Artists will then create a uniquely textured painting alongside Samantha showcasing cold wax as a medium for oil paints. Artists will create several sample boards and one finished oil and cold wax painting in this two day workshop. Some experience with oil paints is an asset.
Supply List
Please have on hand:
1. Jacquard Cold Wax 8 oz or Gamblin cold wax
2. Assorted metal palette knives (typically sharper points are easier to work with)
3. Five 8″ x 10″ panels (can be canvas panels or wood panels) Please prep these in advance with gesso it they do not come pre primed.
4. Paper Towels
5. Oil Paints
Phthalo Blue
Nickel Azo Yellow or other transparent yellow
Alizarin Crimson
Titanium White
6. Pencil
7. Notepad
8. Palette Paper
9. Q Tips
Instructor Bio
Samantha Williams-Chapelsky completed her Bachelor of Fine Arts Degree from the University of Alberta in 2009, with distinction, majoring in painting and art history.
Samantha has been exhibiting her art extensively for the past 15 years worldwide. Her paintings are included in numerous corporate and private collections and are represented in select commercial art galleries.
Samantha is the Golden Working Artist for the province of Alberta, British Columbia, Manitoba, and Saskatchewan. She also works as an art instructor and lecturer, hosting workshops and sessions across Canada.
How many registrations are required for a course to start?
A minimum of 6 registrations are required.  If 6 registrations are not received by the time the course is 24 hours from starting, the course will be cancelled and all registrants will receive complete refunds.
What is the maximum number of people in a course?
This varies for each course.  The maximum number of registrations is decided by the instructor.
Can I get a refund?
Up until 24 hours before a course's first session you can receive a complete refund. You can cancel your registration via the My Account portal, or by contacting Registrations@Mastrius.com.
After this time no refunds will be given (if you have extenuating circumstances you believe justify a refund, contact us at Registrations@Mastrius.com).
Can I register for a course already in progress?
No. Once a course has started, no new registrations are accepted.
Where will my course be held?
All courses meet online over Zoom. You will need a device equipped with a camera and a microphone to fully participate. 
If you have not used Zoom before, learn about how to use it here.
If you don't regularly use Zoom, we recommend you join your first session 10-15 minutes early in case your computer needs to install or update Zoom.
How do I join my course?
You will receive a welcome email from Registrations@Mastrius.com when you register.  This email includes the Zoom link to join your course session.  You will also receive 24 hour and 2 hour reminder emails before each session, and each of these emails includes the Zoom link.  You can also access the Zoom link to join your course in your MastriusChat group.
Are the sessions recorded?
Yes, every session is recorded and are typically available 24 hours after a session ends.  All session recordings will remain available for the duration of the course, and for one month following the last session.  The recordings are viewable within the MastriusChat platform, and cannot be downloaded.
What if I miss a session?
You'll be able to watch the session's recording.  If you have questions the recording doesn't address, you can ask them in the chat feed of your course's private MastriusChat group.
What is MastriusChat?
MastriusChat is an online discussion platform.  You and your fellow course registrants will be assigned to a private MastriusChat group where you can connect and support eachother via the chat "feed". Your group is also where you'll access the session recordings. Other resources in your MastriusChat group include a link to join your course sessions, and a library your instructor can use to share resources.
What is a Navigator?
A Navigator is an artist who joins your course to ensure both instructor and registrants have an enjoyable experience. They support (as required) with technology, timekeeping, moderating questions, and between-session discussions on MastriusChat. The Navigator has also joined the course as participant, and just like you, they're wanting to grow their skills and learn the material.
I'm not ready to register because I still have questions. Who do I contact?