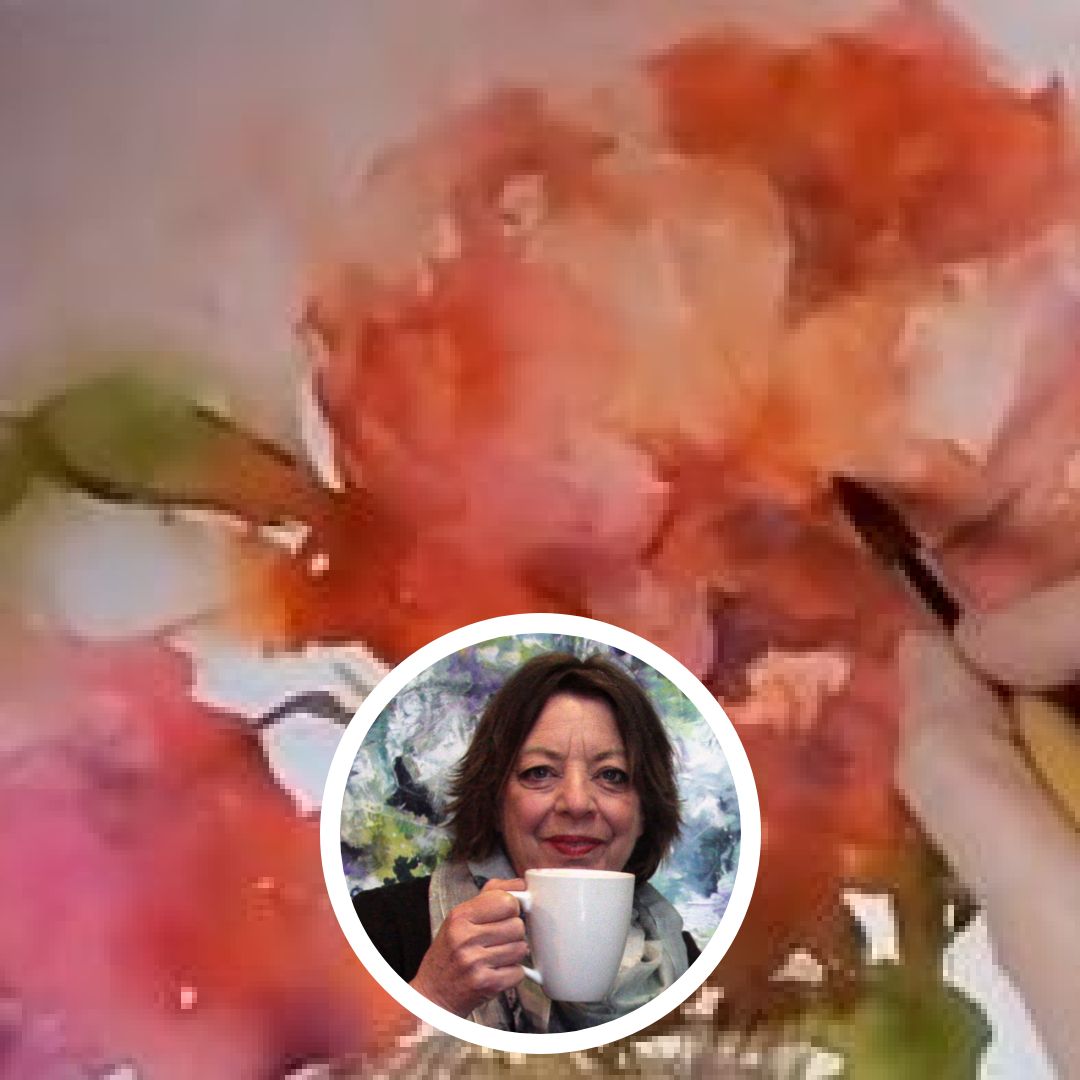 Expressionistic Watercolor Flowers
Learn how to use color and value to create realistic or abstract flower shapes and compositions using a variety of techniques. By the end of the course, students will have created several beautiful floral paintings that capture the beauty and energy of nature.
Instructor: Sue Dion
Audience: Fine Art Painters
For Stage(s): Aspiring, Emerging, Accomplished, Professional
Medium: Watercolor
Not sure what stage you are? Visit our How It Works page for details.
Starts on April 29, 2023
Apr. 29 | May 6 | May 13 | May 20 | May 27
5 sessions, 2 hrs each, weekly
9am – 11am MT
Course Description
Painting loose watercolor florals is a great way to explore your creativity and develop your own unique style!
The unpredictable nature of watercolor can create unexpected and exciting results, making it an ideal medium for creating expressive and emotive artwork.
Using a variety of techniques, this course will cover how to create realistic and abstract images of flowers, how to mix and layer colors to create depth and texture, how to use wet-in-wet and wet-on-dry techniques, and how to choose the right paper, brushes, and paints.
Students will learn how to use color and value to create realistic or abstract flower shapes and compositions. Focusing on the fundamentals of color mixing, composition, and brushwork, we'll transform the subject of your painting into a more emotive, vibrant, and abstract interpretation.
Supply List
Students are invited to work with the watercolor materials they currently use. Artist-quality paint (Winsor and Newton, Holbein, Daniel Smith, etc.) and paper (Arches, Fabriano Artistico, etc.) are strongly recommended.
Sue discusses the materials she uses in this video.
A couple of items that students might want to bring along are an ultra-fine sharpie, white acrylic ink, and a rag that has been laundered without fabric softener.
Instructor Bio
Born in the Fenlands of Eastern England (1972), Mark went on to study painting at the Slade School of Fine Art in London.
His early memories of the land informed his studies, and he continues to explore the inextricable link between landscape and memory in his current body of work.
After completing his degree in 1997, he won first the Duveen and then the Rootstein Hopkins travel scholarships, which took him to Iceland, Norway and Finland.
Mark's experiences in these harsh Nordic landscapes inspired his first solo exhibition at the Proud Galleries in London (1999).
"I loved, loved, loved the class! And I think you are not just amazing at your painting skills, but also an amazing teacher –
which are not necessarily the same or interchangeable."
"Sue is a fabulous artist and very inspirational instructor. She has a unique ability to explain complex theories in an understandable manner to assist students with their art. Sue is very patient and encouraging with all of her students as she helps them discover artist."
"Sue generously shares every tidbit of knowledge she has in order to enable her students to succeed. She does not hold back information from her students and actively celebrates their successes with them."
Sue is a wonderful teacher and opens up all sides of watercolor painting to you: new techniques, mixing of color as well as many little "tricks" that contribute to your creative process. I think the most important component is that Sue creates a totally non- intimidating atmosphere in which to learn. Everyone has fun while learning! Don't miss out!!!"