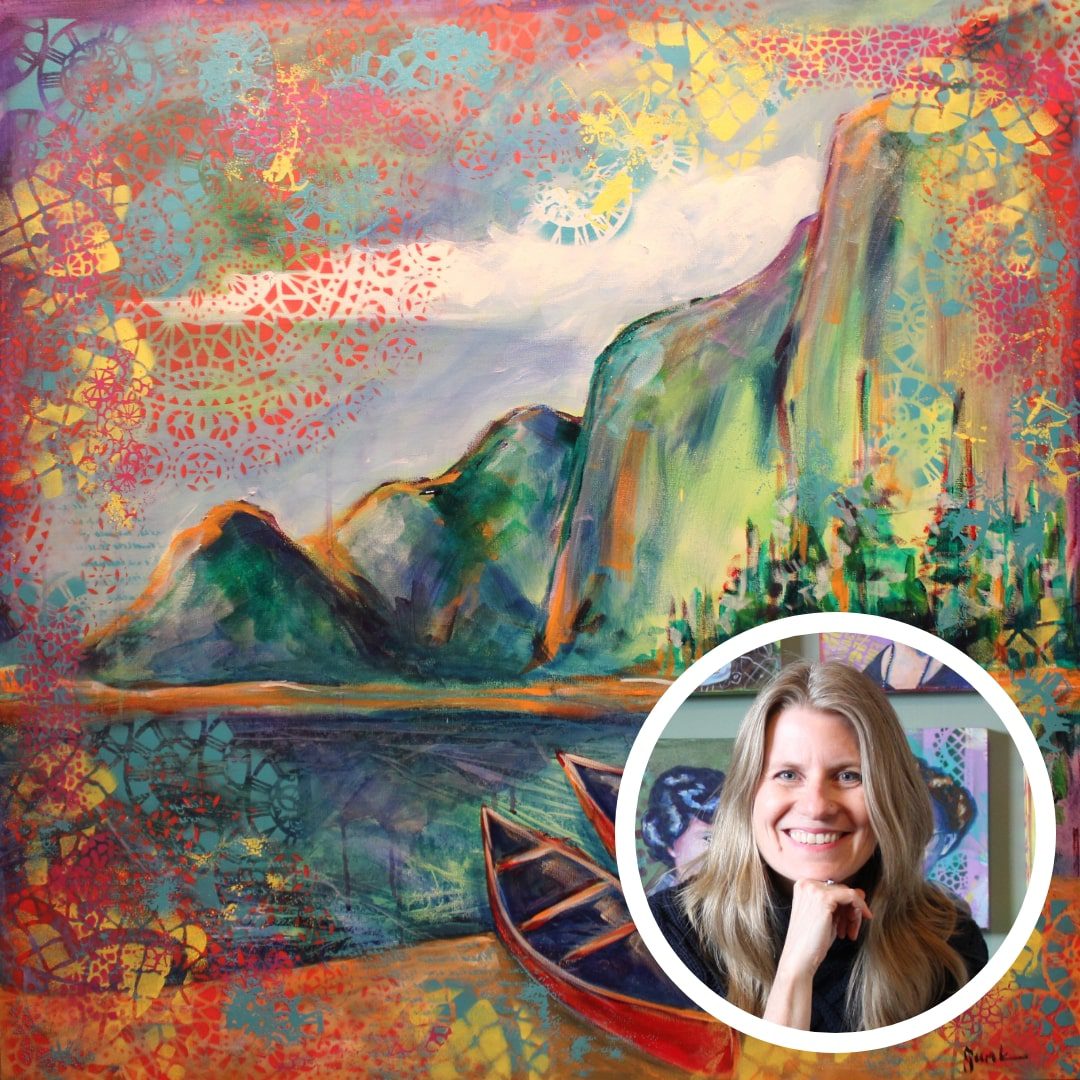 Turn your travel memories into art!
Learn the art of quickly and artistically rendering your travel memories in watercolor.

Instructor: Veronica Funk
Audience: Fine Art Painters
For Stage(s): Any Stage
Medium: Watercolor
Not sure what stage you are? Visit our How It Works page for details.
Starts on Thursday, November 9, 2023
Nov 9 | Nov 16 | Nov 23 | Nov 30
4 sessions, 2 hrs each, weekly
10:00am – 12:00pm MT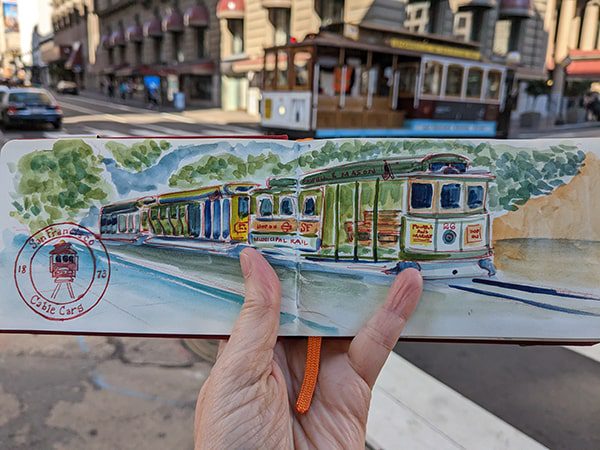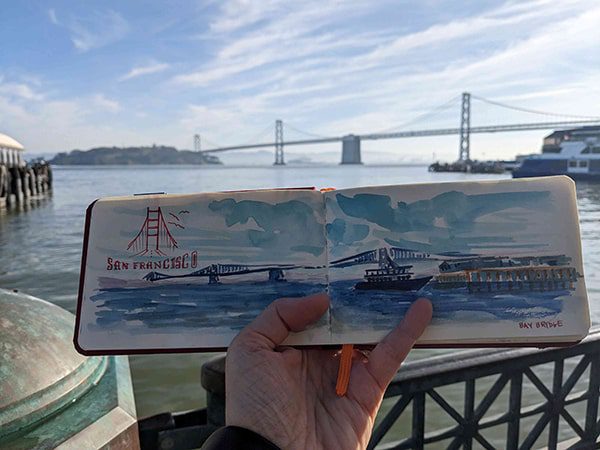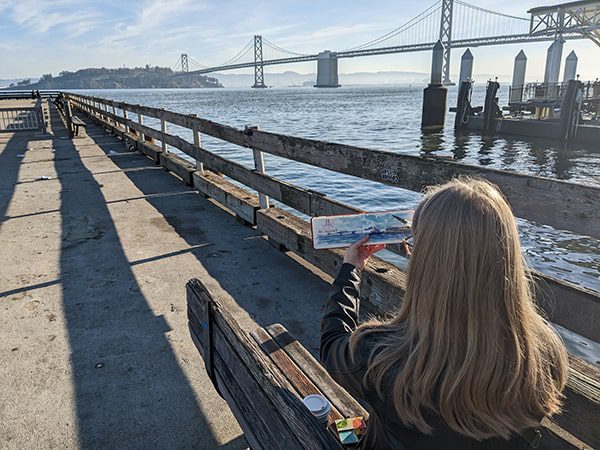 Course Description
Art Journaling with Veronica Funk
Embarking on a journey, whether near or far, opens the door to a world of experiences waiting to be captured and remembered. One way to preserve these moments and turn them into cherished artifacts is through the art of travel journaling.
For me, keeping a travel journal has become a deeply fulfilling hobby, a passport to reliving my adventures and emotions long after the journey ends. It's a way to encapsulate the essence of a place and time, and through this workshop, I'm excited to share my travel journaling techniques and practices with you.
In this workshop, we'll dive into the world of travel journaling together. I'll introduce you to my personal sketchbooks, offering insights into how I work while traveling and how I transform my experiences into captivating visuals. We'll explore a variety of watermedia techniques, and I'll demonstrate how to create beautiful entries with minimal watercolor supplies, making it easy to carry your artistic passion with you on your journeys.
Our journey together will include starting a new journal, utilizing water media that are not only effective but also convenient to take along on your adventures. This workshop will be an informal and relaxed space where you can freely express your creativity, ask questions, and learn from fellow travelers.
Whether you aim to document your past travels or seek inspiration for future ones, this workshop promises to be a rewarding experience. It will ignite your imagination and transform how you document your journeys, allowing you to capture the essence of your adventures in a way that words alone simply cannot. Join us on this artistic voyage into the world of travel journaling, where every page becomes a portal to your fondest memories.
Supply List
Watercolours
I use primary colours – red, yellow & blue – without worrying too much about the exact shades
Watercolour or mixed media paper or a small sketchbook
Water brush
Pencil crayon or pencil – I like to use a Faber-Castell red but anything works
Pen / marker – ie. Micron (I tend to prefer red ink, but anything works)
Rag
My favourites
Joan of Art (www.vivajoan.com) primary watercolour set in a sketching tin comes with everything but a pen/marker
Daniel Smith – indanthrone blue, hansa yellow light & quinacridone rose
M. Graham – for an extended palette: hansa yellow,
Indian yellow, quinacridone rose, turquoise, indanthrene blue & dioxazine purple OR sap green
Waterbrush – Pentel Aquash Medium Mini Water-Brush
Sketchbook – 3.5" x 5.5" OR 5.5" x 5.5" hand-book journal co. (by Speedball)
**I will also share how to make a mini travel journal
Instructor Bio
Veronica Funk grew up in the most beautiful place in northern Manitoba, surrounded by the Churchill River and boreal forests.  Though she didn't receive formal art education in the north, she was taught traditional crafts by her neighborhood Cree grandmothers, such as weaving, beading, moccasin making and a little birch bark biting.  She learned to draw by copying the Archie comics that were prevalent in her home as her mother is from South America and the comics helped her to learn English.  Her father told her that the comics also inspired her name.
How many registrations are required for a course to start?
A minimum of 6 registrations are required.  If 6 registrations are not received by the time the course is 24 hours from starting, the course will be cancelled and all registrants will receive complete refunds.
What is the maximum number of people in a course?
This varies for each course.  The maximum number of registrations is decided by the instructor.
Can I get a refund?
Up until 24 hours before a course's first session you can receive a complete refund. You can cancel your registration via the My Account portal, or by contacting Registrations@Mastrius.com.
After this time no refunds will be given (if you have extenuating circumstances you believe justify a refund, contact us at Registrations@Mastrius.com).
Can I register for a course already in progress?
No. Once a course has started, no new registrations are accepted.
Where will my course be held?
All courses meet online over Zoom. You will need a device equipped with a camera and a microphone to fully participate. 
If you have not used Zoom before, learn about how to use it here.
If you don't regularly use Zoom, we recommend you join your first session 10-15 minutes early in case your computer needs to install or update Zoom.
How do I join my course?
You will receive a welcome email from Registrations@Mastrius.com when you register.  This email includes the Zoom link to join your course session.  You will also receive 24 hour and 2 hour reminder emails before each session, and each of these emails includes the Zoom link.  You can also access the Zoom link to join your course in your MastriusChat group.
Are the sessions recorded?
Yes, every session is recorded and are typically available 24 hours after a session ends.  All session recordings will remain available for the duration of the course, and for one month following the last session.  The recordings are viewable within the MastriusChat platform, and cannot be downloaded.
What if I miss a session?
You'll be able to watch the session's recording.  If you have questions the recording doesn't address, you can ask them in the chat feed of your course's private MastriusChat group.
What is MastriusChat?
MastriusChat is an online discussion platform.  You and your fellow course registrants will be assigned to a private MastriusChat group where you can connect and support eachother via the chat "feed". Your group is also where you'll access the session recordings. Other resources in your MastriusChat group include a link to join your course sessions, and a library your instructor can use to share resources.
What is a Navigator?
A Navigator is an artist who joins your course to ensure both instructor and registrants have an enjoyable experience. They support (as required) with technology, timekeeping, moderating questions, and between-session discussions on MastriusChat. The Navigator has also joined the course as participant, and just like you, they're wanting to grow their skills and learn the material.
I'm not ready to register because I still have questions. Who do I contact?