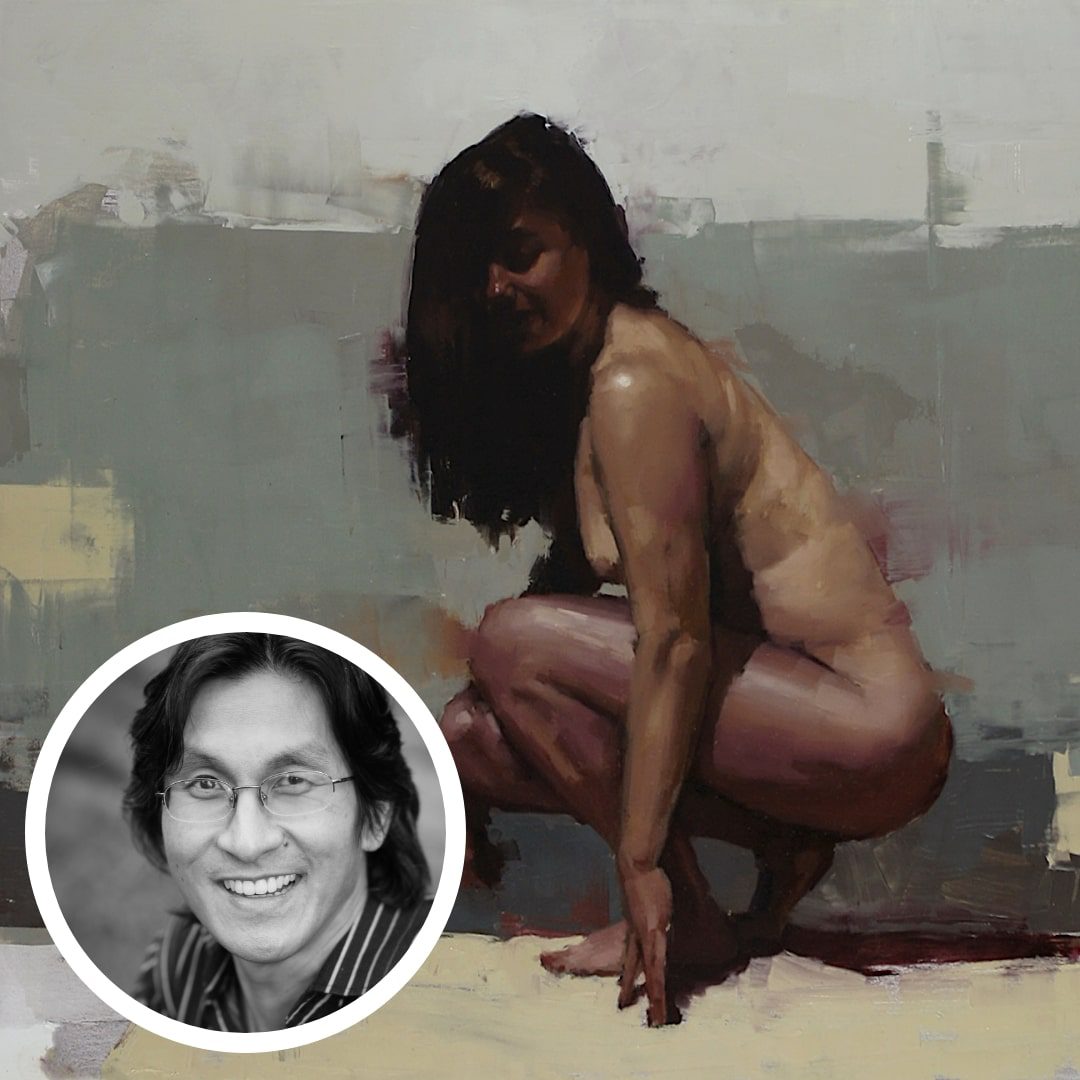 Capture the Dynamics of the Human Figure In Oil
Breathe life into your figurative oil painting by learning how to see and interpret the personality, energy, and uniqueness of each subject.

Instructor: Calvin Lai
Audience: Fine Art Painters
For Stage(s): Beginner, Aspiring, Emerging
Medium: Oil
Not sure what stage you are? Visit our How It Works page for details.
Starts on Wednesday, October 18, 2023
Feb 22 | Feb 29 | Mar 7
3 sessions, 3 hrs each, weekly
4:00pm – 7:00pm MT

Course Description
Knowing anatomy and the proportions of the body is of course incredibly helpful, but for those that do not have the time or inclination to study these, being able to intuitively render a figure is just as important. Through this course an artist will be able to identify what elements are essential to describe the figure and it's expression. It will also reinforce the painterly approach of going from general to specific. The figure, like everything, can be broken down to shapes, values, and colors, and then developed further towards greater detail. This workshop will emphasize that process and lay the foundation for creating lifelike figurative paintings.
The figure has been a source of artistic fascination since the beginning of art. No two figures are alike and each body can convey a multitude of emotions. This course will be designed to better interpret the figure, as well as capture the personality and energy of the subject matter. It will not be focused so much on measuring, but more of training the eye to see how the body's parts relate to each other. This course also aims to give participants a better understanding of how to use oil paints. We will go over oil painting techniques, and even if you have had experience with oils I will dig deeper into the ways oil paints work and how best to utilize them for figurative painting. So whether you are a beginner or an experienced painter, this course is designed to benefit artists of all levels.
Supply List
MAIN COLORS
titanium white
cad. yellow medium
yellow ochre
cad. red light
alizarin crimson
ultramarine blue
cerulean blue (hue)
burnt umber
tera rosa
sap green
OPTIONAL COLORS
burnt sienna
naples yellow light
pthalo green
ivory black
Everyone has their own preferred palette. If you have colors similar to those I've listed, they will work to a certain degree. If you can, get the same colors I use as it will help with matching the pigments we mix. In general, if you have a darker and a lighter shade of yellow, red, and blue, a white, and a brown, you can recreate various colors.
I usually mix my own black, which is why pthalo green is optional, but you can also buy ivory black if you prefer. The other optional colors I listed assist with various skin tones. These are optional because paints can get expensive and if you're just starting out, a limited palette will at least get you going.
BRUSHES
I mainly use flat brushes… but this is also very individual. If you already have brushes then I would say use those that you're comfortable with, but if you want to use what I'm using, below is the bare minimum for what I suggest.
Also note that you should not use your acrylic brushes to paint with oils.
synthetic hair flat – size 2, 4, 6, 8
natural bristle flat – size 4, 6, 8, 10
foam brush – 2′′, 3′′ (these foam brushes are an affordable alternative to larger brushes. If you can get larger size brushes I would recommend it)
… and if you can just get more brushes than what I've listed I would also recommend that. The more brushes you have helps.
OTHER MATERIAL
Palette knives: just a couple for mixing paint
PALETTE
Gamsol Odorless Mineral Spirits or Turpenoid
Walnut oil or linseed oil
Many jars
Rags or paper towels
Murphy's Oil Soap (for cleaning the brushes after)
1 stretched canvas or wood panel 9″x12″ or 11″x14″ (first session)
1 stretched canvas or wood panel 12″x16″ or 14″x18″ (second and third session)
Instructor Bio
I collect moments. If you look through my collection you'll see paintings of people I've met, places I've been, and things I've seen. Because of my background in classical realism, it is important for me to paint these moments realistically. But solely painting realism feels incomplete, and I find that it can become a bit too academic. It's not only about the visual recreation that is my intention in oil painting. I want to make my audience feel they are walking down a rainy street, climbing up a sun drenched hill, or sitting in front of a beautiful figure.
I want a viewer to feel the moments I collect.
In my work, I find myself breaking free from traditional ways of painting and incorporating much more expressive means. I place highly developed detail next to looser, almost abstract, areas. I'm fascinated with how to combine near photographic rendering alongside the roughness of the palette knife, or the randomness of a loaded brush. This combination of realism and Impressionism techniques creates a natural tension in my paintings, as well as directs where I want the eye to travel. Even my choice of composition and subject matter are influenced by this part of me. I find that I create compositions outside of conventional rules and gravitate towards subjects that do not necessarily follow a standard of beauty. There is a bit of provocation in this, as I play off of the traditional ways art should be, but there is also an invitation to see what else beauty entails.