lainey benson
By Mastrius
#Mastriusartist LAINEY BENSON is living that glass-half-full life… and it is making all the difference.

Painting for the past 20 years—almost daily for the past 15—Lainey is known for her charming landscapes and cityscapes. Some whimsical, some inviting, all are joyful and convey a sense of welcome and home. "Life is hard, and if you can surround yourself with things that are beautiful to remind you, to anchor you, then why not?"
"Mastrius is going to unlock doors in my mind, which I'm excited about. Mark is so talented; if someone was going to be full of himself, I would have thought it'd be him, but he doesn't present that. It's about the art, that's what I love."

When she's not painting, Lainey also teaches art, sharing her belief that painting should be—and can be—a lot of fun for whoever is willing to step out and try.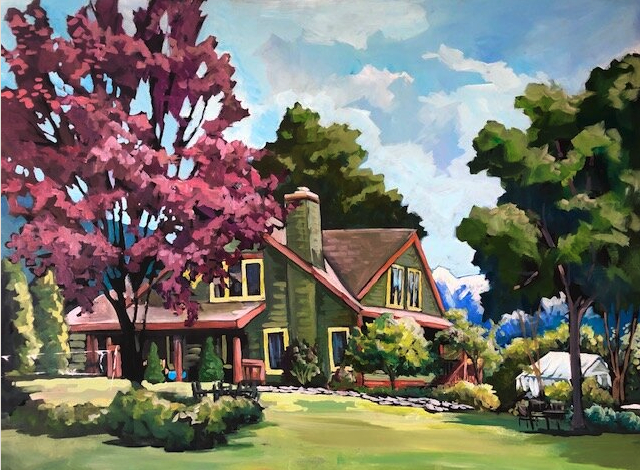 Just four years ago, Lainey left her career in healthcare helping people with developmental disabilities to paint full time. "I love painting, it's been such a gift to me. The only thing that was really surprising to me and my husband both was, 'Oh my God, I can make a living. Why wasn't I doing this before?'"
Her hometown of Nelson, BC, has supported Lainey so well over the years, the need for marketing hasn't been a priority.  But family changes now require Lainey to live half the year in Montreal, and being mentored by #mastriusmaster Mark Heine is meant to help her career grow in a new market.
"We are so much more able than we think. And I don't mean in terms of talent, but in terms of determination; we can create a life we want now. I say that knowing the shape of life can be very hard, but it really is a choice of how we look at things. If you have that attitude of the glass half full and you have the courage to try, I think your life is guaranteed to be better."
FOLLOW @laineybensonart to experience the work she creates in her new city, see familiar favourites, and hopefully get a peek at some new work she's creating for her mentorship group focused on people who often go unseen. Keep shaking things up, Lainey!
Author: Mastrius
Date: May 16, 2022
Find Your
Master Artist GROUP!
Connect with the worlds best!