James Windley
By LevellingUp
We never thought we'd get excited about engineering, but a very cool #LUartist has won us over. Everyone, meet JAMES WINDLEY!
Mechanical engineer by day, @jameswindleyart transforms into a plein air and studio artist by night. He paints in his heated garage converted to a COVID office/ workout space/ art studio where he has engineered himself a magnificent setup complete with a rolling tool cart for his art supplies.
James got started painting in 2017 when, as a notoriously hard person to buy for, his wife got him paint supplies for Christmas. The following summer he took a workshop with #LUmaster Charlie Easton (whose LU mastermind group James is now an integral member of) and his plein air and studio work took off.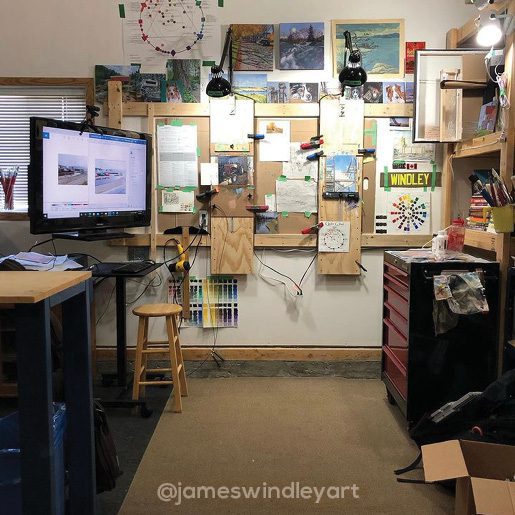 "When I was really young, I remember reading in one of my dad's old photography books: 'There's this big trend to travel for photography. That's the WORST THING you can do. Wherever you are, you can take good photographs.' Then it showed a boring scene with all the interesting photographs you could find in it. I think about that a lot…"
With that wisdom in mind, he's digging for local inspiration and has come across some stunning places in his hometown of Moose Jaw, SK. Check them out for yourself at @jameswindleyart! FOLLOW him for some great Canadian art and inspiration. 
And he gives that GREAT ADVICE to all of us:
"Whatever your expertise, whatever you have to work with, "there's a lot to be learned wherever you happen to be."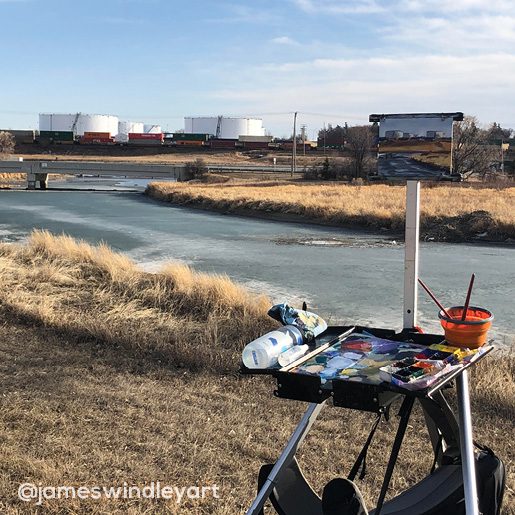 For James, plein air painting holds a similar quality to meditation. It's a way of being in the moment—with the added benefit of having an end product you can be proud of!
Both the quick decision making of plein air and fast drying quality of acrylics are essential to his life as a painter who has to fit in quick painting sessions wherever he can. It helps that he can paint subjects he is intimately familiar with—oil tanks. James has the unique experience of designing and building an oil tank for work, then painting that VERY SAME tank in the background of his landscapes!
Although the pandemic has postponed James' plein air travel plans, he's found motivation to paint closer to home.
Author: LevellingUp
Date: June 3, 2021
Find Your
Master Artist GROUP!
Connect with the worlds best!