Dorothy Mohler
By LevellingUp
OK everyone, settle in. Today we're going meet an amazing #LUartist with an equally amazing story—DOROTHY HOLMES MOHLER!
Story time: 
Dorothy was living and working as a paralegal when she experienced a hemorrhage on the LEFT side of her brain.  Because of this "mixed blessing," as Dorothy now calls it, the RIGHT side of her brain stepped up, and she gained the ability to see and create in ways she couldn't before. Dorothy overcame a LOT following her injury and eventually entered into a new way of life as a working artist. 
Now, 25 years later, Dorothy paints in acrylic on wood panel from her home in Oregon: @tall_girl_studios. She tackles a HUGE RANGE of subjects and styles—from portraits to florals to contemporary abstract landscapes. "The brain injury made me a person who gets bored easily."
And each and every one of her pieces is RICH in colour, layers, and life.
No stranger to adversity, the pandemic has been a catalyst for new life in Dorothy's artwork. "My paintings got brighter and bolder and much more difficult for me. I TOOK ON perspectives, designs and color challenges that I never had before." 
Now she apprentices as an emerging artist with #LUmaster @langevin_david and shares from her hard-earned well of both creative and life wisdom. 
FOLLOW @tall_girl_studios for your source of daily "ooooh"s and "aaaaaah"s.
You're a total inspiration, Dorothy! We are loving all that you bring to the artist community and to the world!
.
.
Quotes from @hoffmancenterforthearts & interview with @sistersnugget news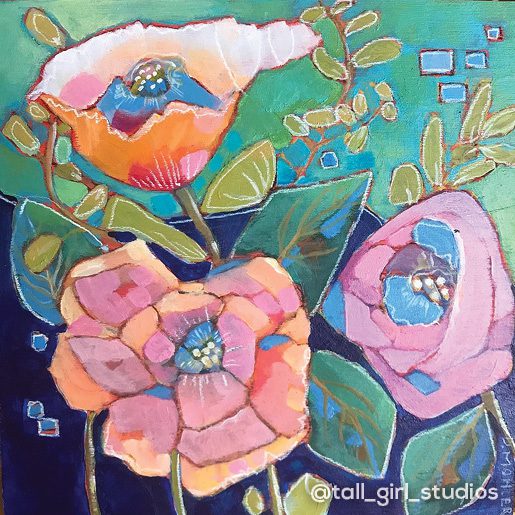 Author: LevellingUp
Date: June 1, 2021
Find Your
Master Artist GROUP!
Connect with the worlds best!