DEBBIE NICOLAISEN
By LevellingUp
Despite significant setbacks, this inspiring #LUnavigator has pressed on to keep hearing and heeding the call to paint… the talented acrylic & oil artist DEBBIE NICOLAISEN!
Deb started drawing and painting as a young girl in rural Quebec; "Boredom breeds creativity!" 
Her artistry got placed on the back burner as a young mom and working professional; all the while, painting "was calling to me big time." A diagnosis of ankylosing spondylitis further complicated her ability to create and left Deb struggling to perform daily activities and even to breathe.
Over the last few years, Deb has followed that inner voice encouraging her to create. She's also carved out a space all her own—a converted walk-in closet/art studio! The space may be small, but she has painted canvases as large as 2ftx3ft! "I just take the canvas out for a stroll if I need a more distant view of it."
Deb's dedication to creativity led her to invest time in her LUcommunity connections, which have boosted both her confidence and technique. "Artists lead a very solitary life and we forget how much we need that social connection. LU fills that need and gives us the chance to learn from loads of master artists at the same time. We're not in competition and we're raising each other's bar. Where could you ever get that otherwise?"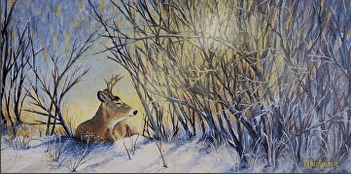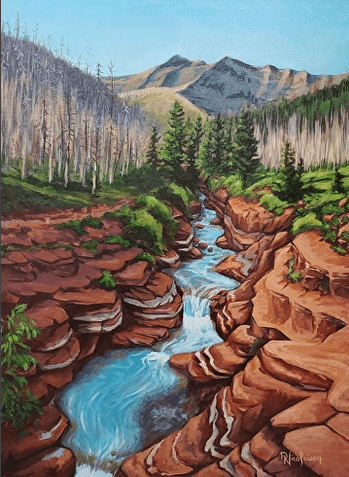 Not one to give up, once she was stabilized, Deb answered that call to paint and devoted time to capturing the animals and landscapes she loved. 
Unfortunately, those same landscapes created her next hurdle.
While hiking down icy steps at Johnston Canyon, Deb slipped and fractured ribs and vertebrae and damaged her dominant shoulder. Through the long months of recovery, she used her non-dominant arm to paint scenes from outside her rehab window.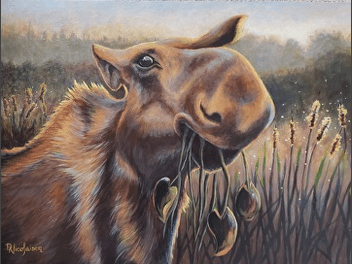 Now making her mark on more than canvas, Deb impacts the lives of other #MastriusArtists by serving in groups with #LUmasters

Cheri Christensen

and

David Langevin

.
FOLLOW @debnicolaisenartist as she inspires with both her process and her deep love of the natural world. 
THANK YOU, Deb, for encouraging us to keep following the JOY—expressing and creating through all life has in store!
Author: LevellingUp
Date: January 26, 2022
Find Your
Master Artist GROUP!
Connect with the worlds best!