Art Courses vs. Art Mentorship: Get the Art Education You Need
Get the Art Education You Need
So you want to develop as an artist. Do you go (back) to art school? Take local art classes? Travel across the world for an intensive art workshop or try and wade through thousands of YouTube art tutorials? 
Tailoring your art education can be a full-time job. Luckily, Mastrius offers a range of art lessons, classes, and mentorship so you don't have to waste time finding exactly what you're looking for. 
So which stream of art education is right for you?
When You Need an Art Mentor
At its core, mentorship is based on relationship. As artists, we often isolate from professional support, feeling the need to go it alone. But the relationship you form with your mentor creates a strong foundation and positive cycle of learning, practice, feedback, and accountability based on your goals. You gain new ideas, identify and fill in skill gaps, and increase your achievement because you're encouraged to reach for higher goals and take educated risks. 

And never underestimate the power of strong professional contacts in the art industry that small group mentorship provides. Your artist network can help open doors and create new opportunities not available to you on your own.

When an Art Class is Right for You
So you've identified a specific skill you'd like to improve on in your art practice. Is it going deeper into colour theory, drawing as a foundation for painting, a specific technique to your art medium, or producing limited edition prints? This is a great time to jump into an art class. An online art course focuses on growing a specific skill quickly.

Choosing an art course is a great option to progress in a skill area if you put the time and effort into practicing what you learn in class. It's a way to stretch your self-direction and self-motivation muscles to get where you want to go faster.

Art Courses AND Mentorship: The Perfect Pairing
Think of mentorship like a trellis—a relational framework for your art practice and career from which more life can grow. Once you have the framework of regular meetings with a trusted mentor and small group of peers, adding tailored art lessons to your art education plan can supercharge what you learn and how quickly.
Art Classes or Mentorship? Either Only Work If You Begin
Whether you start with the foundation of regular art mentorship or jump into a focused art course, progress only comes when you take those first steps into the unknown and begin. 
Start that journey in a safe, supportive, and non-competitive Mastrius artist community today!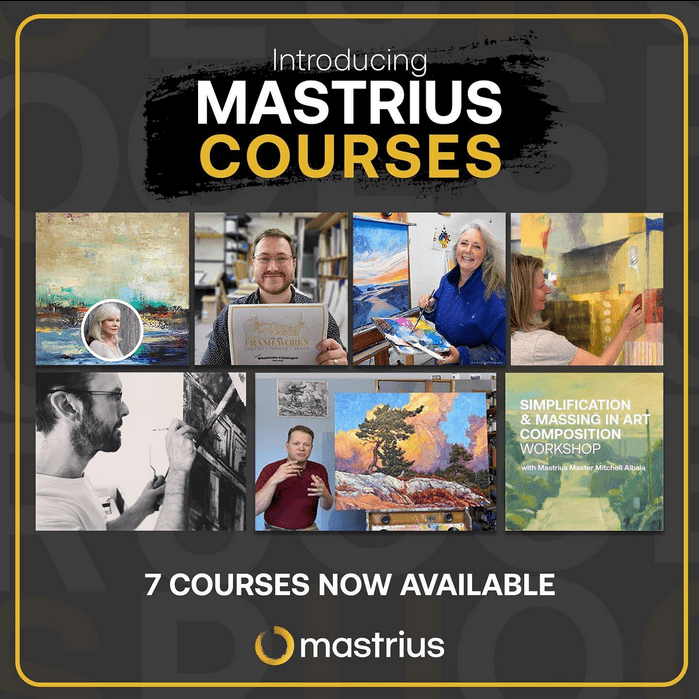 Registration open until class fills and up to 24 hours before class start date.

New mentors and courses are added every week.
Get on our mailing list and be the first to know!